On Sunday 14th August around 80,000 people will be hitting the streets of Sydney to compete in Sydney's annual fun run City2Surf.
Amongst the throng, will be a team of 50 staff, families and supporters of The Shepherd Centre who will be walking, jogging and skipping along the 14km course in gold and blue to help raise funds and awareness of the extraordinary work we do to help children who are deaf or hearing impaired learn to listen and speak.   
Meet staff runner Tiffany – our wonderful Listening and Spoken Language Specialist based at our Wollongong Centre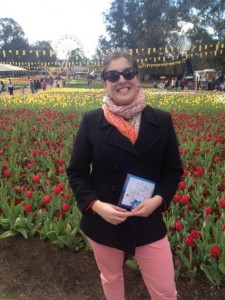 This year is her first time competing in the City2Surf and she'll be walking the race with friends Dave and Nicole.
'Unless there's free cheese I'm not normally running!' jokes Tiffany.
'I'm hoping not to embarrass my friends,' she adds, 'or The Shepherd Centre. I'm setting the bar a little low and just hope to finish injury free!'  She also hopes to help The Shepherd Centre team reach its fundraising goal, with all funds raised going towards life-changing programs for children with hearing loss and their families.
She is slightly nervous about the course, particularly the halfway mark known as "Heartbreak Hill".
'I've heard horror stories about the hills! I may also be struggling to stay awake the whole time after getting up early to get there from Wollongong.'
Training for the event included a recent shopping trip in Melbourne, during which she accidentally walked 10 kilometres.
'I did buy motivational new running shoes however, so who knows?'
Tiffany has been with The Shepherd Centre for three years and loves it. She especially loves the "reunion days" at Kidscape, such as the one held in July at Wollongong Centre where past graduates, their siblings and parents enjoyed the opportunity to reconnect and catch up.
'These parents had become friends through the programs we offer at The Shepherd Centre and were able to share success stories and support each other.'
'These friendships have spanned several years and they've now become the experts helping many of our new parents. It was also amazing to see the wonderful young people the babies had become. I'll never get tired of seeing them read or talk about their school friends.'
The Shepherd Centre's clinical research is another highlight for Tiffany.
'The other reason I enjoy working here is the research. I love that we continue to analyse our programs for best practice and are able to demonstrate such excellent results. I also like our strong staff mentoring process which helps all clinical employees feel well supported and ensures continued professional development meaning The Shepherd Centre remains leaders in their field.'
When asked about a specific moment that inspires her work at The Shepherd Centre, she says it's seeing the results of the hard work by children and families.
'It's every switch on, every first word, every goal achieved in therapy and every graduation. I'm so proud of each of my students for excelling beyond expectations.'
If you would like to join Tiffany and the rest of Team Shepherd Centre, you can register at City2Surf.   You can also make a donation to our team by clicking here.
For more information about City2Surf please contact our Events and Fundraising Coordinator, Hannah, by emailing [email protected] or calling 02 9370 4441.