Twelve-year-old Jonah is an outgoing and sociable boy, who was diagnosed with profound hearing loss at birth.
Jonah received his first cochlear implant at just six months of age, and is now completing Year 6 in a mainstream school via distance education.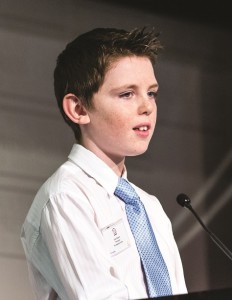 Earlier this year Jonah was invited to present a speech at the National Press Club as part of the inaugural Power of Speech event, which celebrates the achievements of children with hearing loss, where he won the 'Clear Speech Award' for his age category.
Following his impressive performance at Power of Speech, Jonah was asked to be the master of ceremonies at the official opening of our Newtown centre. Jonah delivered an opening speech and introduced various key speakers on the day, including the Prime Minister Tony Abbott, with maturity and confidence.
Jonah's time at The Shepherd Centre means he has the same opportunities as other children.
He would like to become either an architect, a chemist or possibly work with animals, and with the same speech and listening skills as full hearing children, it is possible for Jonah to achieve his dreams.