Twenty-two-year old Rosie was born in Gunnedah in country NSW, the youngest of three spirited girls.
While Rosie's hearing loss wasn't picked up at first, when her family discovered she had profound hearing loss, they made it their mission to ensure Rosie would be able to listen and speak just like any other normal hearing child.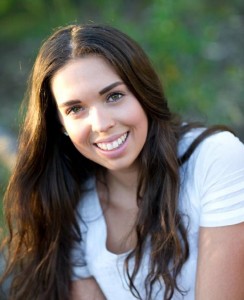 Rosie remembers spending a large chunk of her childhood in transit – travelling six hours by car from her hometown to the city for regular AVT sessions. "It was exhausting, but the support, positive encouragement and guidance by the staff made every little daunting thing seem less scary and it was all so worthwhile." After years of intensive therapy, two hearing aids, and a great deal of hard work by Rosie and her family, Rosie was able to attend mainstream school. "I just couldn't wait to start!" Rosie explains.
"I was so excited to learn, knowing I'd be comfortable in the classroom environment, and felt confident to make new friends. I was more than ready to take on whatever challenge was thrown my way. I believe this confidence was heightened by the endless amount of support, guidance and advice from the wonderful staff at The Shepherd Centre."
In recent years, Rosie received two cochlear implants as part of The Shepherd Centre's First Sounds Program, and is now studying at University. "My proudest achievement to date is that I am now studying Interior Design. It's my absolute dream job, and I never thought that it would be possible.
"My other proud accomplishment is that I have travelled to Europe for five months on my own, a journey most people wouldn't think that me, a profoundly deaf girl, would be able to handle independently."
Rosie recently addressed the parents of our Graduating class after being named our 2013 Past Graduate of the Year, and gave them encouragement and advice for the road ahead.
"Hearing loss doesn't necessarily mean you won't be able to connect and communicate with the world. Take it from me – I lived in a small country town, there wasn't really an option for me to sign, and I'm glad there wasn't.
"Don't give up hope. The road is a tough and challenging one, with plenty of heartbreak and setbacks, but there's no doubt that with all your love, support, encouragement and positivity, your child will reap the benefits and will live a healthy, happy and normal life, like any other child, and like I am today.
"When you find an institution like The Shepherd Centre who shares your vision, goals and aspirations, it's a life-changing experience. It's a lovely feeling knowing that I have been able to overcome all the obstacles I have faced in my life, despite the fact that when the doctor first diagnosed me as profoundly deaf, my family and I were told that I would never be able to hear or communicate with the world.
"Being able to speak and to hear all the amazing sounds this beautiful world has to offer is literally music to my ears. It's a huge credit to the Early Intervention programs offered by The Shepherd Centre, who give such unfailing support and really do provide families with deaf children the best chance at a remarkable life."