By Siobhan McAlary
Last weekend staff and volunteers from The Shepherd Centre, Westfield Chatswood and Westfield Liverpool joined together to host a GiveAbility Day.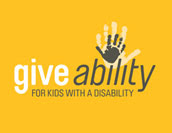 GiveAbility Day (GAD) is a national fundraising event held by Westfield to raise awareness and funds for children with disabilities and their families.
Across Australia Westfield shopping centres put on a range of in-centre activities for shoppers, parents and children to enjoy including, face painting, car park buggy riding, popcorn sampling, hand massages, nail art workshops and kid's pop-up activity zones. Volunteer Teresa was at Westfield Chatswood and started the day handing out GAD balloons to team members stationed at each activity stall.
"At first I was running balloons around to the different stalls but then I manned the Buggy Car ride station in the carpark, which was a lot of fun – freezing but fun!" she said. "I believe they ran out of sausages quite early on so that went well. And the lines for the fairy floss apparently got crazy."
Dressed in red, white and yellow GAD t-shirts, staff and volunteers roamed Westfield Chatswood and Westfield Liverpool collecting donations and giving out GAD balloons to excited children. Westfield Liverpool volunteer Rashmi said the event was well thought out.
"It was very well organised. We had the contact numbers of designated Westfield staff and knew who to go to if we needed things, the staff were prompt in replenishing items at the stalls and continually dropped by to check in during the day."
"I had so much fun," Teresa said, "everyone was so enthusiastic and the support from Westfield and the retailers that joined in was wonderful."
All funds raised will go towards the programs and services The Shepherd Centre runs for children with hearing loss and their families.