Each year, we're so privileged to be able to share in the celebrations of our children and families as they graduate from our Early Intervention Program.
Our annual graduation ceremonies are much anticipated events, with staff, parents and supporters alike enjoying the opportunity to reflect on the inspiring achievements of our graduating children and wish them well as they embark on their journey to big school.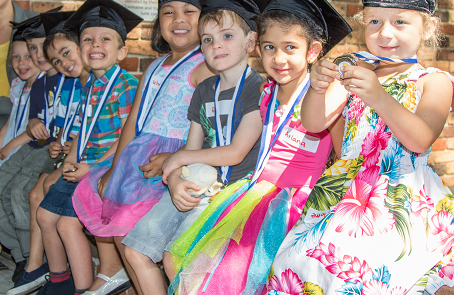 This year around 50 students will be graduating from our Early Intervention program   These children have spent the years since being diagnosed with a hearing loss, attending regular therapy sessions which focus on teaching both the child and their parents the tools needed to acquire sound and speech.
Each of our 5 centres will be hosting their own special celebrations on the dates below:-
Macquarie – Thursday 15 November 2018
Wollongong – Thursday 22 November 2018
Newtown – Thursday 29 November 2018
Canberra – Friday 30 November 2018
Liverpool – Wednesday 5 December 2018
The Shepherd Centre is extremely lucky and privileged to have an amazing network of supporters, friends and donors who not only support us financially through monetary donations, but often give their time to us by volunteering at our events or donate gifts-in-kind.    
To help make our graduations extra special, we're seeking donations for the following items:- 
Catering – Liverpool, Wollongong and Canberra
Celebration cake – Wollongong
Kids entertainment – Macquarie and Wollongong 
Gifts for 50 graduates (off to school gifts, stationary, toys, vouchers) –  all centres
Decorations – all centres – The theme for this years graduation is 'Superheroes"
If you're able to help us out please contact our Sponsorships & Events Manager, Hannah, on 02 9370 4441 or email [email protected].