In these unprecedented times where lockdown measures and social distancing principles are defining our 'new norm', Australians with disability are at risk of losing access to key early intervention disability support services.
The coronavirus pandemic is significantly affecting the delivery of essential services provided under the National Disability Insurance Scheme (NDIS). In some cases, this is resulting in the cancellation of services entirely.
These restrictions are necessary to help flatten the curve; however, Australian children living with disabilities require regular access to crucial health and therapy services typically. Without the continuity of these services, they are at great risk of falling behind. The Government has acted to support the continuity of health services and daily care for people with disability; however, they have not addressed the critical need for prompt early intervention.
Many of these services have been compromised, which is adding to the distress that Australian families are feeling for their children with disability. The issues these families are concerned about are very real, given the potential for life-long developmental impairments arising from even just a few months of disrupted early intervention therapy.
Disability service providers must quickly evolve to ensure that these crucial services programs are continuing with regularity and quality for those that rely on them. We have a responsibility to continue to provide access, where possible, to help maintain stability and consistency in these services.
The Shepherd Centre is a leading provider of early intervention therapy and support for children with hearing loss and our parents have expressed these same concerns.
Like many other organisations, we are making vast changes to our programs to help stop the spread of coronavirus and to protect our community. Our delivery is looking different, but we are still offering all of our services and ensuring that the children we help at The Shepherd Centre continue to achieve excellent outcomes.
The Shepherd Centre has been providing families with online access to our specialist early intervention programs via Teleintervention and Telehealth Programs for many years. We know that the outcomes of children receiving our online telehealth therapy is equal to that of our in-person services – with both in-person and telehealth supported children achieving the same level of language skills as other children their age.
Our approach is enabling us to scale these services quickly and successfully transition all of our families to online access in this challenging time. While this is a big change – for our organisation and our families – and no small feat, it is critical for service continuity. We are also accepting and supporting new children from all of the areas we serve, during this time.
Our families are attending Listening and Spoken Language therapy sessions in real-time through videoconferencing and digital technologies. We are also helping them to monitor and maintain their children's access to sound through their hearing devices. Children and parents are also receiving critical counselling and social support, including sessions with our clinicians and Early Childhood educators in the children's literacy and executive function development.
Beyond their clinical benefits, our group programs play an important role in bringing children and families together – these connections are even more crucial these challenging and socially isolating times.
Rapidly transitioning our staff and families to online services has come at an enormous cost – but this cost guarantees immediate health and wellbeing, and uncompromised longer-term outcomes.
The disability sector is urgently seeking further support from the government to ensure that disabled children and their families will continue to be supported during this time. We encourage greater provision and clearer guidance from the NDIS to ensure that our telehealth services – and the services of other providers – remain accessible for families across the country.
The coronavirus crisis is presenting a number of challenges on both an individual and organisational level. Adapting to significant and difficult change can often be a slow process; however, now more than ever, it is critical that we have the support to be rapidly changing.
We call on the Government to prioritise and implement measures to ensure early intervention providers can continue to meet the needs of these already vulnerable Australians.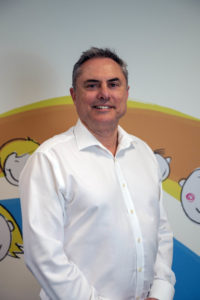 Written by Jim Hungerford, CEO of The Shepherd Centre