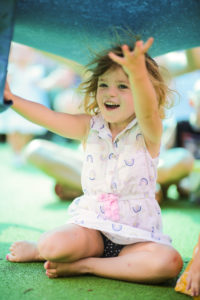 The Shepherd Centre would like to thank the CommBank Staff Foundation for helping us to support deaf children and their families during these challenging times.
The Foundation's generous funding has enabled our services to continue uninterrupted through the COVID-19 crisis.
A generous grant from the Foundation has expanded our capacity to deliver audiology services for deaf children in Tasmania, where we are the only early intervention provider for hearing loss.
This ensures that local children do not miss out on vital early opportunities to develop hearing and listening skills, despite the disruptions caused by COVID-19.
The Foundation has also supported additional counselling services for parents and children in the ACT, empowering us to respond to a massive increase in demand, as families grapple with the distress and uncertainty caused by COVID-19.
These services ensure that local children and their parents remain resilient in the face of the current crisis, and can continue to overcome the challenges of living with hearing loss.
Commbank has been a valued supporter of The Shepherd Centre for over 10 years. They continue to empower children with hearing loss to reach their full potential, and for this, we are immensely grateful.
Thank you Commbank and in particular the Commbank Staff Foundation!