Our Principal Listening and Spoken Language Therapist, Dr Anne Fulcher, reflects on International Women's Day
'I love the concept that 8th March, International Women's Day (IWD), is a global day of recognition, where women stand tall the world over to celebrate women's achievements. Equally, my thoughts resonate with IWD being one where we need to constantly reflect on the challenges modern women face. A day when we need to discuss a way forward past any hardships still being experienced for too many women worldwide.
'These aspirations gel so well with why I love my work at The Shepherd Centre. For nearly 40 years I have prized working here. And one of the chief driving inspirational forces for these feelings is that The Shepherd Centre is constantly trying to do it better. With a focus on improving the lives of children with hearing loss, we have listened, researched and continuously delivered such high quality programs that the organisation has been recognised as a world leader in the field for decades. Being a not for profit organisation this achievement has faced and overcome so many challenges. Now that's inspiring!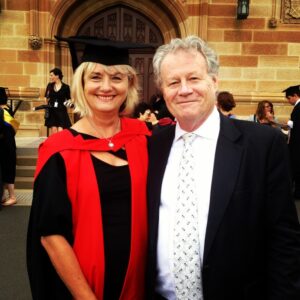 'Fortunately, I have been blessed with family and career values that have supported a strength in the belief that "there's no wrong way to be a woman" (as Serena Williams so aptly describes). Being so well loved and supported by my immediate and extended family has enabled me to set my own goals and strive to find ways to achieve them. My only real career challenge came in the late 1970's when as a new mother of four, I was still very torn regarding how I could achieve a work life balance that fit well with all the things that I loved. I think that is an ongoing conflict for many women, but fortunately there are so many more supports/role models these days, that it is becoming increasingly possible to "be anyone you feel comfortable being".
'The Shepherd Centre continues to be a predominantly female workplace. Annette Shepherd, the co-founder of The Shepherd Centre with her husband Dr Bruce Shepherd, set the benchmark. She would never accept "no" for an answer. She fought so many battles with so many governments and a multitude of officials – and won!
'Working with children with additional disabilities at The Shepherd Centre has predominantly attracted magnificent caring and sharing women. My dream would be that our smaller contingent of equally caring and sharing males will grow. Our children can then have the opportunity to learn from our male counterparts who feel very comfortable and proud to share their "feminine" caring skills. The equi-gender environment will probably require a review and respect for people in our field, reflected in a salary scale that recognises these fine people and the skill and dedication required in their work.'