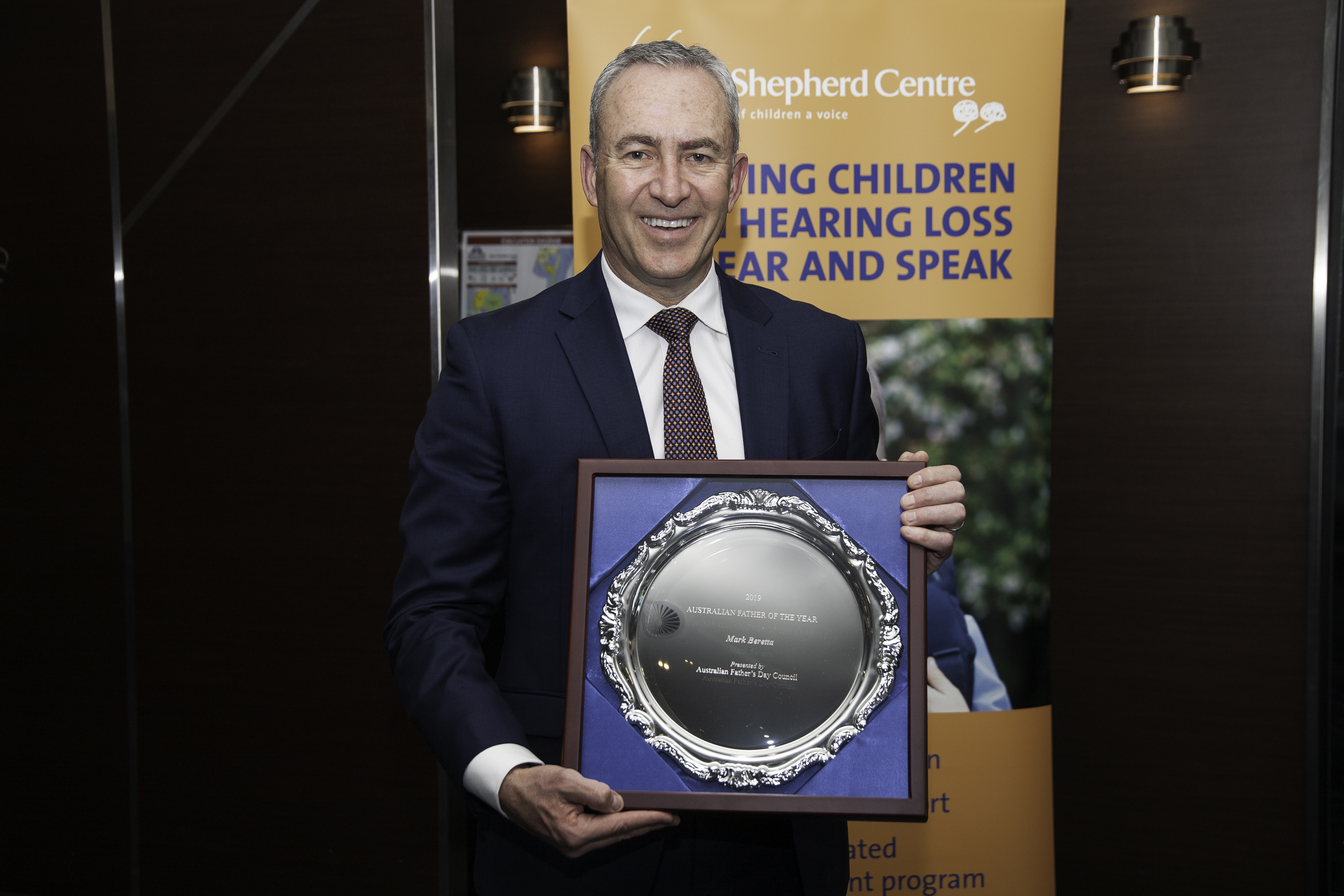 Mark Beretta awarded The Shepherd Centre's Australian Father of the Year 2019
Sydney father of one Peter Smart awarded The Shepherd Centre's Community Father of the Year 2019
Bandit Heeler (from ABC's KIDS hit children show "Bluey") awarded The Shepherd Centre's Father of the Year 2019 (Canine Category)
Wednesday 28th August 2019 –The Shepherd Centre, a charity for deaf and hearing impaired children, has today announced Channel 7 presenter Mark Beretta as The Shepherd Centre's 2019 Australian Father of the Year, in recognition of his strong family values and ongoing commitment to community-focused initiatives.
As a father of two children – Ava (15) and Daniel (12) – Mark is best known for his role as a journalist and sports presenter for Channel 7 and as a ten time Australian water ski champion. This award recognises Mark's dedication to his family and his charitable efforts as an ambassador for several foundations and organisations supporting and inspiring Australian children.
Mark started his broadcasting career in 1989 on Geelong's radio station 3GL before moving to Triple M Melbourne. He held a reporting role with Network 10 before becoming Channel 7's sports reporter in 1995 which he continues to do today.
Previous winners of The Shepherd Centre's Australian Father of the Year award include entrepreneur Dick Smith AC; former New South Wales Premier Mike Baird; Sunrise host David Koch; His Excellency General the Honourable David Hurley AC DSC FTSE, Governor-General of Australia; high profile GP Dr Jamal Rifi; Basketballer Andrew Gaze and Aussie Home Loans founder John Symond.
Mark Beretta said he was humbled to be awarded The Shepherd Centre's Australian Father of the Year, "This is a huge and very unexpected honour! Being a dad is a tremendous privilege and I am very grateful for a wife and kids who teach me so much. Becoming a dad is a special experience and it does change your life in a very fulfilling way – all my favourite memories involve my family. So many dads are out there doing a great job with their families and I am regularly inspired by the role dad's play in bringing up brilliant Australian kids. I take my hat off to Dads across Australia for all they do, they all deserve a pat on the back."
CEO of The Shepherd Centre, Dr Jim Hungerford, said he was pleased to award the Sunrise presenter as this year's winner.
"Mark is a wonderful role model and an inspirational father, and we're delighted to present him with The Shepherd Centre's Australian Father of the Year 2019 award," said Dr Hungerford.
Peter Smart, father of one and former NSW Police Force officer, has also been awarded The Shepherd Centre's Community Father of the Year. This award aims to celebrate and acknowledge the vital role that fathers play within families, and in the wider community.
After a long and distinguished career in NSW Police Force, Peter is now enjoying life as a stay-at-home father to 20 month old son, Edward, who was born with bilateral moderate hearing loss.
"I am excited and extremely honoured to receive The Shepherd Centre's Community Father of the Year award. I believe that there are other fathers who are more deserving of this award, but I see this as a chance to put a spotlight on the importance of parents in their children's lives as they grow up." said Mr Smart.
As part of this year's announcements, The Shepherd Centre have also announced a third recipient due to a surprising amount of nominations from the community. The new Father of the Year Canine Category was created and awarded to Bandit Heeler, a well-loved character in Australian family homes from the ABC KIDS show, Bluey.
Bandit, the doting dad, attracted the attention of thousands of parents who watch Bluey with their children. He is being recognised for his role a as a kind and hard-working father for Bluey and the Heeler family.
According to Joe Brumm at Ludo Studio, Creator & Writer for Bluey, "This award is testament to Bandit as he tries his best to be a worthy role model to his kids."
People are also encouraged to share their support via social media using the hashtags #AustralianFatheroftheYear #AFOY #AustralianFatheroftheYear2019 #AFOY2019 and tagging Twitter, Instagram and Facebook.
ENDS
For further information, or to arrange an interview, please contact:
Jo Wallace

The Shepherd Centre

02 9370 4460 / 0407 201 394

Maya Ivanovic

Palin Communications

02 9412 2255 / 0403 354 305

About The Shepherd Centre:
The Shepherd Centre is a NSW-based not-for-profit organisation specialising in early intervention to help children who are deaf and hearing-impaired develop spoken language skills.
Since its foundation, The Shepherd Centre has opened up a world of sound for more than 2,000 children who are deaf or hearing impaired. The organisation is recognised as a world leader in the field of Listening and Spoken Language early intervention, providing families with assistance to develop their child's speech, so they can reach their full potential.
For more information visit www.shepherdcentre.org.au.