This is an Australian Christmas classic written by legendary author Mem Fox and illustrated by Kerry Argent. Wombat Divine tells the story of a wombat who loves everything about Christmas, especially the nativity play. Poor wombat wants to be in the play so badly, but it's a little tricky to find a part for a wombat! This lovely twist on the traditional Christmas story is probably best to read with children over three years old.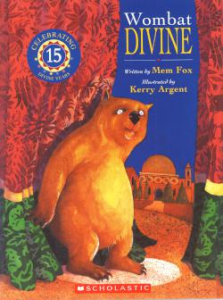 Here are a few activities you can try while reading it:
Encourage your child to make some predictions, for example when wombat tries to be the angel Gabriel, his friends attach some string to him and try to make him fly…you could ask 'thinking questions' and 'feeling questions' like, 'What do you think might happen next?' and 'How do you think wombat might feel when he realises he can't be the angel?'
See if you can name all of the Australian animals and play a game of 'Guess the Animal' by acting as if you ARE that animal (i.e. talking and moving like it). 🙂
Make up your own play and find roles that suit the people in your family. Note the characteristics of each family member and find an animal that has similar characteristics (for example, someone who has a nice laugh could be a kookaburra, or someone who is tall could be an emu). Talk about similarities and differences as you choose your characters and then plan your play e.g. who are the characters, what is the problem they need to solve, what will the ending be and what is the title of the play?
Watch out for our next Christmas book review and activities, and happy reading!
Jenna Golab – Speech Pathologist, Listening & Spoken Language Specialist