Leah was diagnosed with severe-profound hearing loss and came to The Shepherd Centre in 1992 where she spent four years with Dr Anne Fulcher developing her speech and language skills.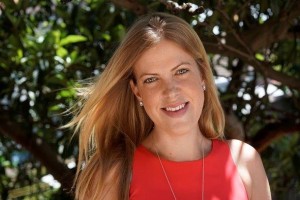 Leah received her cochlear implant at the age of four and hasn't looked back!
'Leah was very determined as a little girl,' says Dr Anne Fulcher. 'She was always incredibly cheeky and lots of fun and I'm so proud to see her be acknowledged with this important award. Leah is a great role model to other families to showcase how our children go on to achieve such great things after they graduate from The Shepherd Centre.'
Leah's best memories of The Shepherd Centre are attending the popular Christmas parties, one-to-one speech lessons with Anne and interacting with all the other children at the centre during play time.
Leah leads a very full and rewarding life – she loves going to the beach, hanging out with friends and family, playing tennis and skiing. Another of Leah's hobbies is travel – she has travelled extensively including to England, Ireland, France, Spain, Switzerland, Italy, Singapore, Bali, Fiji, New Zealand and Hawaii!
Now 25, Leah is in her third year at Macquarie University where she is undertaking a Bachelor of Early Childhood Education and is thrilled about being recognised as The Shepherd Centre's Past Graduate of the Year. 
'This opportunity will give me a chance to acknowledge the excellent service and support that The Shepherd Centre provided to our whole family leading up to my school years which made the whole transition into kindergarten a lot easier,' said Leah.
'My parents felt that if I hadn't attended The Shepherd Centre in the early years of my childhood – I would not have the clear speech I have today. It was the dedication and positive direction given by the teachers, including the lovely Anne Fulcher and all the staff at The Shepherd Centre, that helped shape who I am today!'
Leah is looking forward to finishing university and starting her career as a primary school teacher.