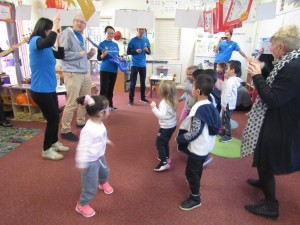 In June a group of corporate volunteers from sound technology company Dolby Australia spent a day at The Shepherd Centre's preschool in Liverpool.
During their visit, the team from Dolby helped create craft for therapy sessions with the children and brought along musical instruments for the kids to explore sound. 
Staff from The Shepherd Centre demonstrated how our preschool integrates children with hearing loss among their hearing peers. They also shared knowledge on Audio-Verbal Therapy and how we work with children who are hearing impaired and their families
The volunteers ended their visit with a big concert, jamming with the kids singing and dancing to crowd favourite Baby Shark.
It was a wonderful experience for The Shepherd Centre children, staff and the Dolby volunteers on the day.
Mark de Burgh, DSP Engineer and Quantum Physicist at Dolby Australia said of the shared learning experience,
"On behalf of the Volunteers, I really wanted to thank you all for an amazing time at The Shepherd centre. In our day job we don't often get to hear the joyful squeals of children running away from a baby shark. It was a true delight. But we do share a passion for hearing cognition and creating spectacular experiences. It was fascinating learning a little of how you can tune implants, and train parents to help their kids (to listen and speak). You are really blessed to be a part of such an extraordinary place. It was a very special memory, and something that none of us will forget."
The Shepherd Centre would like to thank the employees of Dolby for their wonderful visit.
There are many ways your organisation can get involved with The Shepherd Centre, for more details visit: Corporate Support