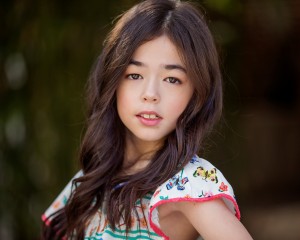 Amelia was diagnosed with moderate hearing loss at 3 days old and fitted with hearing aids at 4 months and attended weekly early intervention therapy at The Shepherd Centre. As Amelia grew older, her mum Angie, noticed whilst she didn't always respond to voices, when she heard music she was a completely different child. 
Now aged 9, Amelia's biggest passion is dance. She can sometimes find it challenging to hear lyrics or the rhythm of songs however she can always understand the beat of music and was drawn to dance naturally from a very young age.
When learning choreography, Amelia has found a way to make it work for her through observing closely and copy the teacher's movements instead of relying on spoken instructions. Her teacher also uses a microphone, worn around the neck to pick up speech. 
Amelia recently joined Brent Street in their Performance Program, training 20 hours a week. She has won many solo eisteddfods, as well as winning the Junior Award in her dance school last year, and placing in the Top 5 dancers in internationally recognised competitions.
Earlier this year Amelia successfully auditioned for Jack and the Beanstalk's junior ensemble cast. The pantomime is showing at Sydney's State holiday's these school holidays. Her first professional stage production, it's a testament of her determination to succeed, when is given a fair opportunity.
Mum Angie is very proud of all that Amelia has achieved, "People are often surprised to learn she is hearing impaired, especially with dancing. Her dream is to be a professional dancer and open her own studio. She knows there will be challenges and communication barriers she will need to overcome being hearing impaired, but she is learning the confidence to self-advocate and that her hearing loss does not define her."
In January 2020 Amelia will also be in the ensemble cast for Wizard of Oz with Harvest Rain playing at Qudos Bank Arena. She goes to a mainstream school and was voted on the Student Council committee earlier this year in her new school.
You can read more about Amelia's journey in the Wentworth Courier.
The Shepherd Centre have an exclusive $60 discount offer on tickets to certain performances over the July school holidays:
Saturday 13 July at 2pm
Wednesday 17 July at 3pm
Thursday 18 July at 3pm
Friday 19 July at 2pm 
Friday 19 July at 7pm
For all other performance times and information go to:  Jack & The Beanstalk