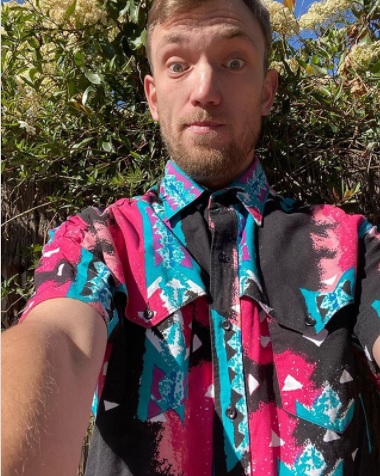 Joe Symons is one of The Shepherd Centre's favourite Loud Shirt Day supporters.
Joe's journey with The Shepherd Centre began in 1991 when he was diagnosed with moderate to severe hearing loss, aged 2. An early memory is of his therapist Janette or "Net" as he called her fondly, visiting his home as part of the Early Intervention program.
"I went to the Figtree Centre up to 1994 when I graduated and started Primary School. I have fond memories of Net coming to our house for sessions, working on my communication skills, in a fun and educational way.
Fast-track to 2020 and Joe, now aged 31, has been participating in Loud Shirt Day for the last seven years. Loud Shirt Day provides Joe with an avenue to give back to the organisation that was instrumental in helping his communication skills.
"The Shepherd Centre has given me the ability to lip-read, communicate and live my life to the fullest. Without the help I had back when I was I child, I wouldn't of been able to achieve all that I have."
Joe works in childcare and also has his own clothing company, Arrowman, he also collects T-Shirts, so celebrating Loud Shirt Day melds a lot of his interests.
"As I am an avid T-shirt collector, it was a somewhat easier decision to get involved and to find the loudest shirts I have each year."
Joe's fundraising tip is to get your workplace and community involved, "Staff, parents and kids enjoy dressing up in Loud Shirts for this great cause. It is great to be able to give back to The Shepherd Centre and to spread the good word. The more you can engage the community about Loud Shirt Day and The Shepherd Centre, the better your fundraising efforts can become."
Keen to make the most of getting LOUD? Register now and click here.