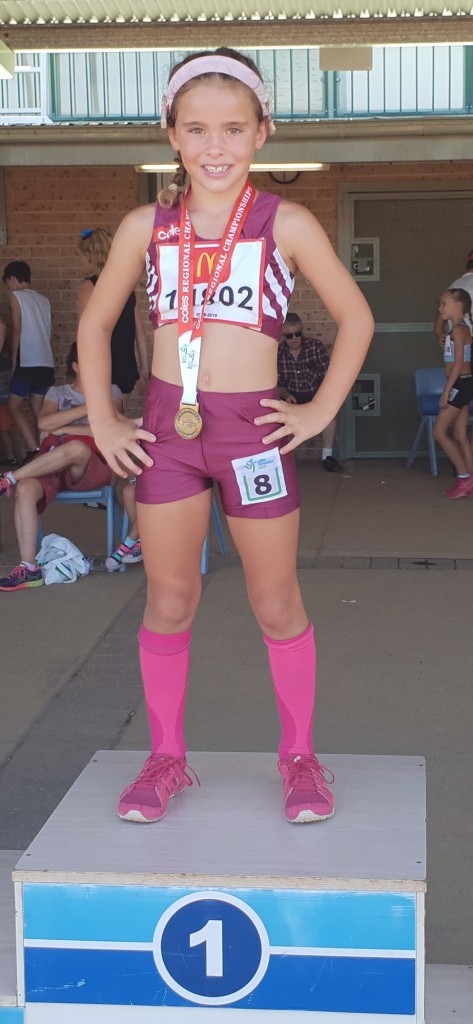 Little Khloe's sporting prowess came to our attention in a call out for our Alumni Achiever awards nominations. Mum Toni knew that Khloe was too young to be nominated (applications are for age 12 and over this year) but felt her sporting achievements would be worth highlighting.
Khloe has profound bilateral sensorineural hearing loss, diagnosed at birth. The diagnosis of which was "devastating", said Toni.
"I can still remember this day like it was yesterday.  Driving home from the hospital and not knowing what the future would hold for her."
"We spoke to my obstetrician who suggested we get in contact with Dr Chang.  We were lucky to get an appointment with him the following week and he put us in contact with The Shepherd Centre and we never looked back."
"The Shepherd Centre not only answered the millions of questions we had but provided support along the way.  They felt like a second family from day one.  Khloe would not be where she is today and attending a mainstream school if it wasn't for their wonderful programs."
Now aged seven, neither her hearing loss, nor her cochlear implants have hindered Khloe from competing in team or individual sports. She loves sport and while doesn't have a favourite, really enjoys athletics.
Her favourite athletes are Cathy Freeman and Sally Pearson and loves watching their races on Youtube. In the future Khloe would love to wear the green and gold, representing Australia.
Here are just some of Khloe's recent achievements:
Competed at the Sydney South West Regional Swimming Carnival.  Performed well in the U8 girls 50m Freestyle and placed 9th out of 21 girls.
Invited to swim at the NSW State PSSA Swimming Championships representing Sydney South West in the Junior Girls Multi Class 50m Freestyle.  Competing against girls aged 9 and 10, Khloe touched 3rd to the wall but finished 6th overall due to the classifications. She also swam a personal best. She had to race without her processors on and it didn't deter her.
She won the Year 2 girls Cross Country at her school by a consider margin.
In Athletics, Khloe was a Gold Medalist in U8 girls Shot Put at the NSW Little Athletics Regional Championships, finalist in 60m Hurdles, 70m sprint and Long Jump.  She has also been the Girls Age Champion at our Little Athletics Centre for the past two years. 
Recently competed at the NSW Junior State Cup for Oztag.  Received the Players Player Award as voted by her team mates.
Netball – plays with her friends in our local club on a Saturday morning.  She received the Coaches award last year.
Khloe also loves to dance and is part of her school dance group, she loves music and Taylor Swift and Pink are her favourites.
Khloe has the biggest fan base in all the staff at The Shepherd Centre and we hope one day to be cheering her on as she shoots, runs, swims, throws, jumps and dances for Team Australia!