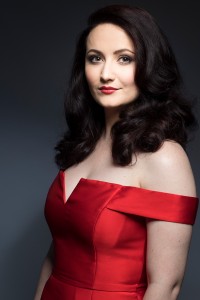 One of The Shepherd Centre's talented Listening & Spoken Language Therapist's Rebecca MacCallion is headed to Berlin to perform in Don Giovanni  by W.A Mozart at The Berlin Opera Academy. Rebecca is passionate about the use of music to help children with hearing loss to listening & speak. We sat down with Rebecca to hear about her family connection to teaching children who are hearing impaired and how her passion for opera developed in her teenage years.
What is your role at The Shepherd Centre?
I am a Listening and Spoken Language Therapist at the Liverpool Shepherd Centre. I have been with the organisation for just over four years.
How did you first get involved with The Shepherd Centre?
I first heard about The Shepherd Centre as a teenager. My mum was working as a teacher of the deaf, and would often travel to Sydney to undergo professional development at The Shepherd Centre with specialists like Anne Fulcher. Mum would always come back home so inspired about the work of The Shepherd Centre and the advances in the field of hearing loss.
 Mum is very passionate about teaching language to children with hearing loss and additional needs, so I guess I caught the bug from her! When I was studying my Masters of Speech and Language Pathology I really wanted to get some practical experience of speech pathology, and so Mum suggested to me that I volunteer at The Shepherd Centre. I started off supporting Talk Together at Liverpool with Group Programs Manager Niamh O'Reilly, little did I know that this would become my work place in the future!
Can you detail your musical background? What sparked an interest in classical music?
My family are all musical, and I grew up with a great love for Musical Theatre. When I went to my first singing teacher at 13, I just wanted to sing like Marina Prior. After hearing me sing, my teacher had other ideas! She succeeded in converting me to classical music. She insisted that I watch the film Amadeus (a biographical film about Mozart) and after that, I was completely hooked! When most teenagers were saving up to buy So Fresh albums, I was saving up to buy the film soundtrack for Amadeus.
 I completed my AMEB grades in classical singing while at school, and then moved to Canberra to study a Bachelor of Music in classical performance at The Australian National University School of Music.
How does your music training support your role at The Shepherd Centre and working with children with hearing loss?
I feel that my musical training, particularly in singing , helps me to listen very carefully and pick up on the subtleties of speech and communication. We spend so much time analysing what we hear as speech pathologists, so my musical ear helps me to pick up whether a child is missing some sounds or producing them without clarity.
I also spend a lot of time singing in other languages (mostly Italian, French and German) so I have a bit of empathy for how challenging different speech tasks can be, and I know for myself how exhausting it can be to try to learn new speech sounds and words!
Most importantly my musical training makes me always grateful for the gift of sound and communication through sound. My love of music connects me deeply with the joy of helping children with hearing loss to access and interact with the world of sound. At The Shepherd Centre we know that singing is one of the best ways to grow a child's listening, speech and language skills, and so I enjoy teaching families about the wonderful benefits of singing and music.  I get to see many sides of what singing can do, how it can light up a baby's face, and how it can move an audience to tears.
Can you explain why music is so important for brain development, particularly in children?
Listening to music engages so many parts of the brain at once, giving your brain a 'listening workout' . Music also fosters beautiful connections between parents and their children as they use songs to play games, make transitions and develop a strong attachment to each other. Music also helps with social participation in early childhood, as children are able to sing along with their peers and families and share a musical experience.
Singing and playing music to children with hearing loss helps them to extend their listening attention. It is also wonderful for teaching language, as songs provide repetition and often make words very clearly understandable.
Learning an instrument has been found to integrate auditory and other senses (visual, motor) together to build connections in the brain which have been shown to improve auditory processing of sound. I do tend to subtly suggest to my families that they consider learning an instrument!
How does The Shepherd Centre integrate music into their listening and language therapy?
The Shepherd Centre uses singing constantly. We include song time in our Talk Together and Kid Scape groups, and in all of our therapy sessions. We encourage parents to make up their own songs to sing to their child. Often parents can be worried about whether they have a 'good' singing voice or not, but this really doesn't matter! Everyone is able to sing in a way that engages their child's brain, fosters connections and builds their understanding of speech and language.
We also provide an Acoustic Skills program where music therapist come in and lead a music group with our families. These groups are very popular, as they help families to experience the joy and growth that music provides.
This year we have received some very kind support from donors specifically for our music groups. I would like to say a sincere thank you for this kind support. I believe music is one of the most precious gifts we can give to each other, and it is so wonderful to be able to share this gift with children with hearing loss and their families.
The work I do at The Shepherd Centre is such a source of joy in my life. Thank you for supporting professionals like myself to be involved in the lives of these special families, and to help them to live in a world full of sound and music.
You perform professionally as an opera singer, can you let us know what performances you have on the horizon?
I am very excited to be heading to Berlin to perform at The Berlin Opera Academy. I will be preparing and performing the role of Zerlina in Don Giovanni  by W.A Mozart. This is a great thrill for me as Don Giovanni is the first opera I ever saw. The academy is an intensive training program that helps young singers to transition to working in opera houses in Germany.
I am also a part of Pacific Opera, a young artist program here in Sydney. As part of Pacific Opera I will be performing in many different events and productions in the second half of the year, including 'The Last Night of the Proms' with Willoughby Symphony Orchestra (WSO).
The WSO has been a great supporter of emerging musical talent in Australia, and it is always a great pleasure to perform with them. 
Watch Rebecca discuss The Shepherd Centre's acoustic skills programs on our YouTube channel