This year we have celebrated an amazing Loud Shirt Day across the country as well as throughout all of our centres. Whilst we are yet to find out the full amount raised, we thought it would be a great time, while we're still on a LOUD high, to share with you the wonderful events that took place…
For the first time we held a local activation in Newtown called 'Paint Newtown Loud'. The concept was mainly to let all the wonderful businesses in the area know our head office is here and we're always on the lookout for partners to work with for our cause.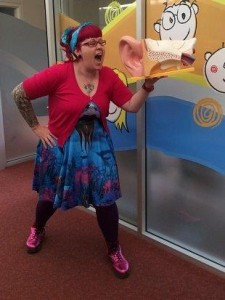 We felt Loud Shirt Day was also a pretty good fit for our Newtown friends. We had lots of fun things going on around the Inner West including specially made cocktails, people dancing on King Street singing ABBA songs through a megaphone, an underwater theme at a local bar/restaurant, an up and coming band doing a live performance for us and so much more!
Our children at a number of our centres dressed up loud and proud as did many of our staff. There were lots of fun activities for kids but also some colourful cakes and treats as part of our bakeoff fundraiser. We're still yet to determine who took out the prize for our loudest staff member.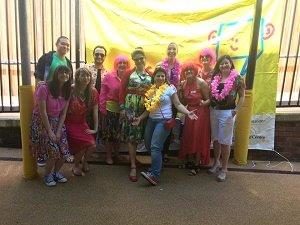 Our Principal Audiologist, Yetta Abrahams and our Senior Researcher Katie Neal, dressed loud even at their conference in Washington. Distance doesn't stop us! And we can't forget our teleintervention families – one Tasmanian family held an open day at Cambridge Airport in Hobart complete with helicopter joyrides.
More than 1,600 people turned up to the event and dug deep for a good cause. We had lots of media coverage too and plenty of love on social media platforms from fashion bloggers through to international cricket star and Cochlear ambassador, Brett Lee.
We wish we could share all the great events that took place just for The Shepherd Centre but there are too many to list here.
Follow us on Facebook, Twitter and Instagram (@shepherdcentre) to check out all the Loud Shirt Day events. Thanks everyone for your support!