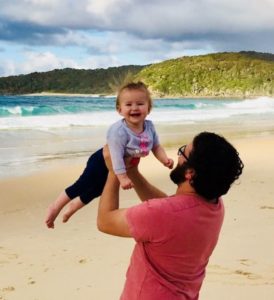 Uncle Matt adores his little niece Amira.
Little Amira from Canberra was born June 2018, her parents, Sarah and Jeremy found out about her hearing loss during the Statewide Infant Screening for Hearing (SWISH) test in the hospital. Her follow up testing with an audiologist at six weeks old confirmed Amira had profound bilateral hearing loss. Since then, Amira and her family have attended The Shepherd Centre Canberra for regular therapy, group sessions and appointments. Amira is a happy, bright toddler who is adored by her family.
In 2019 Uncle Matt decided to run the City2Surf in support of Amira and the help the family receives from The Shepherd Centre. This year when the news came through that the race would still be on, albeit on your own personally chosen course, Matt took up the challenge. For 2020 he is spearheading #TeamShepherdCentre and encouraging friends, families, Shepherd Centre supporter and staff to get involved.
In a tough year for all, Matt sees the value in what completing a goal like the City2Surf can do for an individual's physical and mental wellbeing and is encouraging all to join him on the run. 
The Shepherd Centre did a quick interview with Matt to find out his running and fundraising tips!
TSC: This is your second time running for The Shepherd Centre, what inspired you to take up the challenge again?
Matt: I really had a great time last year running and raising funds and awareness for the Shepherd Centre. It was touching to see how many people were inspired to donate to the cause. I was also pleased that I was still walking after the hard slog. 
TSC: How many times a week are you training for the City2Surf, what helps you get out and get running?
Matt: For the last few weeks, I've been managing to get out each morning for either a walk or a run before work. I started by just walking and listening to an audiobook. This week, so far, I've been running a 5k loop around my area and its been encouraging to see my pace improving each time. It helps to remember to just try and get up and do SOMETHING. It doesn't have to be a 5k run or a 1-hour walk, just getting out consistently for short periods of time is better than going hard once then being too wrecked to continue.
TSC: Why would you encourage other family members of Shepherd Centre kids to join Team Shepherd Centre? 
Matt: I think I speak for everyone when I say that 2020 has not at all panned out the way any of us hoped. Since March things have been drastically different and many of us have perhaps formed habits we didn't have before, some good, some not so good, my partner has joked about how, if you're not careful, you can put on the "COVID 19": the 19 kg of extra weight from sitting around in lockdown. There's no better way to get out of a slump and set a goal for yourself than to get out and run for a cause like The Shepherd Centre. Not only will they and the families they serve benefit but you will also. I don't think many people regret getting out and active but many do regret not doing so. 
TSC: Do you have a favourite spot/circuit to run. 
Matt: I'm really lucky that my local area has a lot of places to get moving. I do enjoy the popular Bay Run and also running through Annandale and Glebe and along the Glebe Foreshore.
TSC: What are your top tips for runners starting out.  
Matt: I'm certainly no expert but I'd say start slowly and consistently. Consistency is key in many things and this is no different. If you don't take the first step you'll remain in the same place. 
TSC: How is little Amira going? Have you been able to see her at all during the pandemic?
Matt: Amira is doing so well! She's quite a smart and chatty little girl and she has thrived under the care of The Shepherd Centre in Canberra. It's been so good to see her and her big sister Anna playing together and chatting away. Unfortunately, I haven't seen too much of her in person this year due partly to COVID-19 and her family being in Canberra and me in Sydney, but I'm very looking forward to the next time she'll loudly order me to sit down and draw with her. 
Sign up for the Virtual City 2 Surf here: https://city2surf2020.everydayhero.com/au/get-started
Join #TeamShepherdCentre here: https://city2surf2020.everydayhero.com/au/team-shepherd-centre
Click 'going' on our Facebook event here to stay updated with #TeamShepherdCentre!