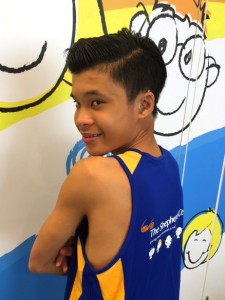 Our past graduate, Stephen Tang, took part in City2Surf in 2017 and will once again be supporting The Shepherd Centre in 2018 as our City2Surf Team Ambassador for our Alumni Club, Beyond Sound.
He is looking forward to helping out all graduates, supporters and families – past and future – who join Team Shepherd Centre for this year's City2Surf.
'With more members in the team there's more potential to raise funds, and a greater chance to make the run wacky and fun,' said Stephen.
'If you're interested in supporting a cause close to your heart, City2Surf is the perfect fundraising event. Without donations it would be impossible for The Shepherd Centre to provide the quality and quantity of early intervention that they do.
'Looking back on what the staff did for me, it was only right that I gave something back.'
His favourite memory of The Shepherd Centre was when his therapist brought a toy bear to one of their sessions.
'It had hearing aids like I did,' said Stephen.  'I was so excited and I remember that being my favourite toy for a solid week – which is long time when you're four years old!
'I also discovered that I wasn't the only kid with hearing aids,' continued Stephen. 'As you can imagine, I had instantly found a best friend.'
City2Surf 2018 is Stephen's fourth run and he's aiming to complete the 14km course in 80 minutes.
'Heartbreak Hill is quite a challenge to run up, but from there you're going down towards the end.'
He is open to walking the course, 'depending on the amount of people we get, who knows, we might just throw a party and walk the whole way there.'
Walking or running, his mantra will be the same:
'With hope and determination there's nothing stopping us.'
To join Stephen and be part of Team Shepherd Centre in City2Surf 2018, click here to register, search for 'Team Shepherd Centre 2018'  and click join – simple!