Isabella Rosati grew up in Bayview on the NSW Northern Beaches as one of four children.
Born profoundly deaf, Isabella's hearing loss wasn't diagnosed until she was two-and-a-half years old. With little experience of hearing loss, Isabella's mother Kerrie recalled a chance meeting at a party with The Shepherd Centre's long-serving Listening and Spoken Language Specialist, Anne Fulcher, who explained to Kerrie her work teaching deaf children how to listen and speak.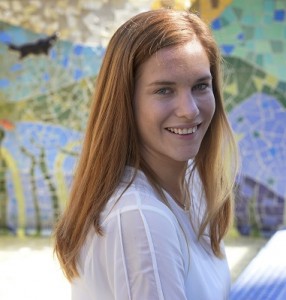 "Mum called Anne, who assured us that everything was going to be ok and my journey at The Shepherd Centre began," Isabella explained.
"It was the best decision my parents could have made, and one that has made a huge difference to my life. At The Shepherd Centre, I learned that life is full of opportunities. It taught me to embrace my deafness and treat it as an opportunity, not a disadvantage. I wouldn't be the person I am today without the endless opportunities and help that The Shepherd Centre gave me."
Following several years of intensive therapy and two hearing aids, Isabella attended mainstream school. She made it a priority to become involved in as many different activities as possible, especially sport. Isabella became the vice-captain of the athletics club, representing her school in various state and national competitions.
"I loved school, as everyone was so supportive and I was very well looked after," Isabella said.
"I was never treated differently, which was perfect, as being treated differently is something that I can't stand. I couldn't ask for anything more than to fit in."
In Year 6, Isabella received her first cochlear implant. "It changed my life so much that I couldn't wait to get my second implant after I finished Year 12," she recalled.
Following school, Isabella studied Sports Management at university, and while she found the degree challenging, with the help of her lecturers and family she was proud to graduate with an Associate Degree in Sports Management and a Bachelor of Business in October last year.
Taking some time off after university, Isabella embarked on an overseas adventure, travelling independently around Europe, Bali, Aspen and New Zealand.
And upon her return, Isabella landed a dream job – as swim school team leader, managing 63 staff. "It's my proudest achievement to date," Isabella explained.
"I'm very happy to say that the hard work I put in through my days at The Shepherd Centre, at university and beyond, has really paid off. "Being deaf certainly doesn't stop you from living a normal life and achieving your dreams!"