Past graduate of The Shepherd Centre, 18-year-old Jordan Crane is a busy young man. A wheelchair sports champion, Jordan represents New South Wales and Australia in the National Electric Wheelchair Sports (NEWS) competition, which requires players to compete in not one, but three sports – hockey, rugby league and balloon soccer.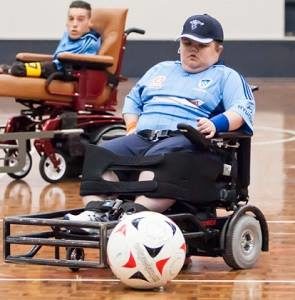 And in case three sports weren't enough, Jordan was recently selected to represent Australia in his "favourite sport", Powerchair Football, for which he's won two grand finals, and been named Most Valuable Player. But it doesn't stop there – in addition to his jam-packed sporting schedule, Jordan is also in the process of completing his HSC, with plans for further study in Computer-Aided Drafting after he graduates from high school this year.
Combining elite sports with the rigours of high school study requires an enormous amount of commitment, but Jordan, who has Duchenne Muscular Dystrophy (DMD) in addition to hearing loss, takes it all in his stride; explaining that the skills he learned at The Shepherd Centre are key in helping him excel at both sport and school.
"At The Shepherd Centre, I learned how to listen, set tasks, study and organise my time. These skills have helped me all the way through school, and also in sport, to hear my teammates, coach and captain," Jordan said. "I am sure these skills will continue to help me through my life."
Mum Kelly says their family's decision for Jordan to pursue a spoken language future at The Shepherd Centre was the right one, particularly in light of his dual disability.
"Our decision has helped Jordan a lot at school, socially and on the sporting court, to achieve his goals," Kelly explained.
"With two disabilities, Jordan depends on his hearing more than anything, but he has quite a positive outlook on life which is a credit to him."
Having reached the pinnacle of his sport in Australia, this remarkable young athlete has his sights firmly focused on conquering the world – and mum Kelly says The Shepherd Centre has played an important role in Jordan's success."
Jordan's goal is to play for Australia at the upcoming Asia Pacific Oceania Cup in Japan, and to qualify for the World Cup," Kelly explained.
"The Shepherd Centre has helped Jordan and our family tremendously," she added.
"Jordan wouldn't be where he is today without early intervention and continual support with his hearing. So, thank you."