A review of Lucy Cousins' picture book by Listening Spoken Language Therapist, Tess, from our Newtown centre.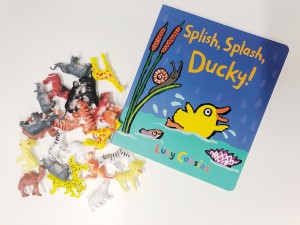 Lucy Cousins' vibrant colours and illustrations continue to delight in her newest book, Splish Splash Ducky. This is a perfect story to share with 1-2 year olds, who will love following Ducky on her day out in the rain and watch her splash about with her friends. Each page is beautifully illustrated and clearly matches the story, which makes it ideal for young minds to follow along and focus without becoming overwhelmed by extra detail. Some things to think about when reading Splish Splash Ducky:
Modelling "Adding On": There are so many opportunities to practice 'adding on' an extra word to model the next step for expressive language development. If a child is primarily saying one word at a time, you can beautifully model the next step of two words, e.g. "duck" à yellow duck/flying duck/happy duck/fluffy duck; frog à jumping frog/cheeky frog/excited frog/slippery frog; "go" à go duck/go higher/go in/go faster)
Highlighting Verbs: Splish Splash Ducky is jam packed with different action words (verbs) which are incredibly important for language and sentence development (all sentences need verbs!). What I really like about Splish Splash Ducky is that the types of verbs are relevant to babies and toddlers (hug, look, hop, squirm, play, swim, shake, hide). You can bring these verbs to life by doing the action, repeating them, making the book hop/squirm/shake or by emphasising them when you read the story. 
Language Modelling: Each page of Splish Splash Ducky provides an opportunity to use rich descriptive language and vocabulary that you may not use in your everyday interactions. The frog is clearly jumping with glee and ducky is soaring after him, the flowers are swaying in the wind, the fish in the corner might be feeling shy, the signets are flapping their wings with excitement, the mouse is peeking out from under the leaf, ducky looks disappointed when the rain stops". Remember that we need to model rich language in order for children to understand and develop this language in their own vocabularies, even if we do not expect them to say it straight away!
Listening First: Bookshare is a perfect time to practise using listening first and Splish Splash Ducky is no exception. You can easily 'peek' and describe the next page before showing it without losing attention with this lovely story. There is no set rule for doing this. Some of the things I might do are:
Read the actual words before showing the picture "drip drip drop I hop with frog"
Make a learning to listen sound with the "I heard that" listen cue if there is an animal "hop hop hop" point to ear "I heard that! Did you hear the frog" or "Swish Swish! I hear the fish"
Talk about something I can see "wow! I can see a frog jumping very high!" "the birds are shake shake shaking their feathers out!" "uh oh! The rain has stopped!"
Remember that it doesn't matter at all if you don't finish the story. The aim is not to get to the end, but to share the experience and be in the same listening and learning space as your child along the way.  I'd highly recommend Splish Splash Ducky and I've no doubt it will become a fast favourite for young children and parents alike. 
Thanks to Walker Books Australia for donating children's books to enrich our reading resources with our children.