By Siobhan McAlary
The Shepherd Centre is delighted to announce that its preschools at Wollongong and Casula (Liverpool) have received the rating "Exceeding National Quality Standard" after a recent assessment visit by the NSW Department of Education & Communities.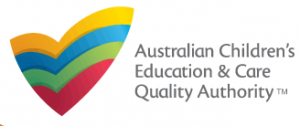 This score means that our preschool's provision of early childhood education and care services has "gone beyond the requirements of the National Quality Standard in at least four of the seven areas," according to the Australian Children's Education and Care Quality Authority (ACECQA).
National Quality Standard (NQS) is a key component of the National Quality Framework For Early Childhood Education ('National Quality Framework'), a national initiative supported by all Australian governments to advance children's learning and development across the country by lifting the quality of early childhood education and care services, decreasing educator-to-child ratios and raising qualification requirements.
The NQS comprises seven key quality areas that are given a rating level out of five from the Department, separately and overall, alongside the submission of a Quality Improvement Plan (QIP) by early childhood education and care providers. The seven key quality areas form the benchmark for childhood education and care providers nationwide.
The ratings awarded – and required by law to be displayed online – help families determine the quality of care and education services delivered by long day care services, outside school hours care services, preschools, kindergartens and family day care services.
These fantastic results for our preschools at Wollongong and Casula reflect our proud commitment to providing high quality care to children across all of our centres.
Interested readers can find the ratings online at http://www.acecqa.gov.au/national-registers and http://www.mychild.gov.au/sites/mychild.