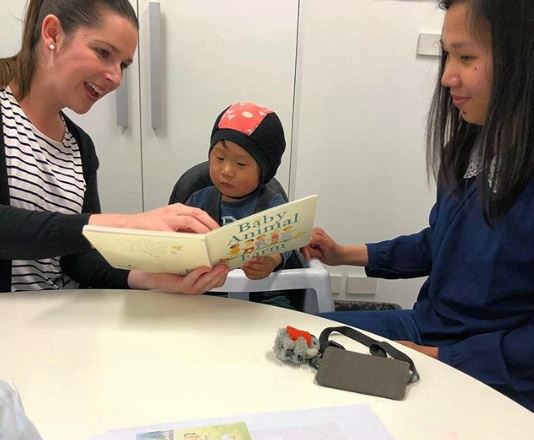 On Tuesday the 20th of August, parents and children of The Shepherd Centre unveiled a new Street Library to announce a partnership with Walker Books Australia. Staff and children of The Shepherd Centre dressed up as their favorite book characters to celebrate the event. Walker Books have generously supplied books both to keep in the Street Library and for use in the center.
Today, staff, parents and children of The Shepherd Centre came together to celebrate National Book Week, and unveil a new Street Library at our Newtown center. The Street Library has been generously donated by Street Libraries Australia and is painted by a family member of one of our graduates, Lewis Beard. It is a representation of the belief that reading is an integral part of our community, and is an invitation to families, children and visitors of the Shepherd Centre to share in the benefits of reading.
Staff of the Shepherd center in the guise of Mad Hatters, Minions, Where's Wally and even a Giant Peach welcomed representatives of Walker Books Australia to announce a partnership that recognizes the many benefits associated with reading to children with hearing loss. Dressed as Batman, Harry Potter or Molly the Muffin Fairy, children were able to choose a book from a selection provided by Walker Books to read, return to our new Street Library and later swap for another book to inspire and broaden their interests. The Walker Books Bear was also in attendance of the event, drawing the attention of many children who as well as a book, received a cuddle.
The importance of book shares and reading in the education of children with hearing loss has been recognized by The Shepherd Centre, and is particularly important in establishing "a communicative base as well as the foundations needed for literacy," said Aleisha Davis, General Manager of Clinical Programs at The Shepherd Centre.
Through a partnership with Walker Books, a generous supply of both contemporary and classic reading materials now displayed in our Street Library and in the center has been provided to improve and develop speech, language, listening and literacy.
Written by Caidee Heriot