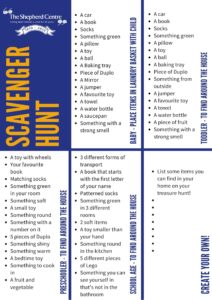 A scavenger hunt around the home is a great activity for children of all ages.
You can do a hunt with things you find around the house and use a washing basket or pillowcase to collect all of the treasures.
For babies, you can introduce new language and sounds, while older kids might enjoy playing solo or competing with siblings while practising their literacy skills. 
Download our printable that provides hunt ideas for little ones and older children. When you've done the hunt, why not make up your own version?