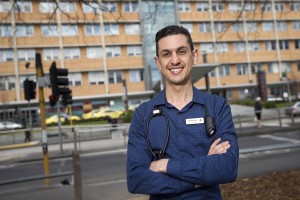 Shepherd Centre graduate Anthony says early intervention gave him the gift of sound and the ability to break into many worlds.
A malformation in his ear caused fluctuating moderate-severe hearing loss and he was born into a world of silence.
Two years before starting Kindergarten, Anthony began early intervention at The Shepherd Centre.
Today the 33-year-old works as a trauma intensive care nurse at The Alfred Hospital. He also lectures at the Australian Catholic University and is a skilled piano player.
Anthony's ability to listen and speak enables him to navigate the worlds of nursing, academia and music with ease.
"I owe this to The Shepherd Centre and to my parents commitment to early intervention."
"I am eternally grateful to The Shepherd Centre, hearing implants and hearing aid devices. They have broken the silence of many worlds."
In the world of academia, Anthony is set to speak at a national conference. He has just finished his thesis on organ donation and intensive care and is excited to present his findings.
He says this achievement was possible because of early intervention from The Shepherd Centre.
"The evidence-based research by trained clinicians is delivered with compassion and enthusiasm, giving children and families a voice and a second chance in life."
Originally from Sydney, Anthony lives in Melbourne with his partner John and their Balinese cat George. A few years ago they celebrated their engagement with parties in Sydney and Melbourne, surrounded by friends and family.
"The Shepherd Centre maximises opportunities. Not only have they helped many to hear, they have taught us how to listen. Our lives have been enriched and transformed and we are forever grateful. To break silence is truly a gift; to give someone a voice is unequivocal."