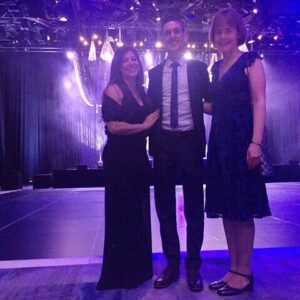 Our Senior Grants Manager Berthe and one of our Listening & Spoken Language Specialists Sally recently attended Commbank's Winter Wonderland Gala Dinner event. Our amazing graduate Anthony mesmerised the crowd with his inspiring story. After coming through The Shepherd Centre's services some years ago, Anthony has carved out a highly successful career in the health sector. Anthony also spoke at our Gala dinner this year – to hear his story, please click here. 
The Shepherd Centre is a Commonwealth Bank charity partner and we were awarded a generous grant to support our Sound Direction Program in the ACT. The program's focus guides parents to involve children in every day experiences at home and in the community to fully develop their spoken language so they can integrate successfully into mainstream school and go on to pursue their ambitions just as Anthony has. 
We appreciate the Commonwealth Bank's continued support of our programs. Without philanthropic backing, we would be unable to help the growing number of children with hearing loss that come to us each year and these children would not be able to achieve the incredible outcomes that they do.