Confident Kids 1-2 years group guides you to understand and support the holistic development of your child and learn how to support them to listen, connect, think and share in everyday en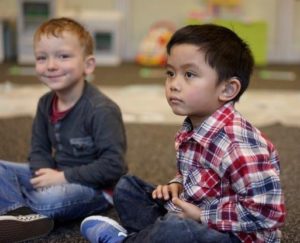 vironments.
Listening, language, attachment, thinking skills and social skills all develop closely together and depend upon each other developmentally. This group aims to help you recognize the social opportunities with your child in everyday interactions, and support them to become independent, resilient children and adults
In this group you will learn to:
Engage in activities that establish the link between parent attachment, listening, social skills and cognition.
Maximise opportunities for brain development in your child back-and-forth interactions
Facilitate your child's development of executive functioning in everyday life
Learn ways to support your child's development of early social milestones
Recognise and be able to respond appropriately to your child's emotions
Identify social barriers that may arise for your child with hearing loss
Learn practical ways to support and model advocacy for your child in early social settings
Participate in early play interactions with other children and parents
Develop confidence incorporating auditory verbal therapy strategies into everyday social and play settings with your child
If you would like more information please click here.