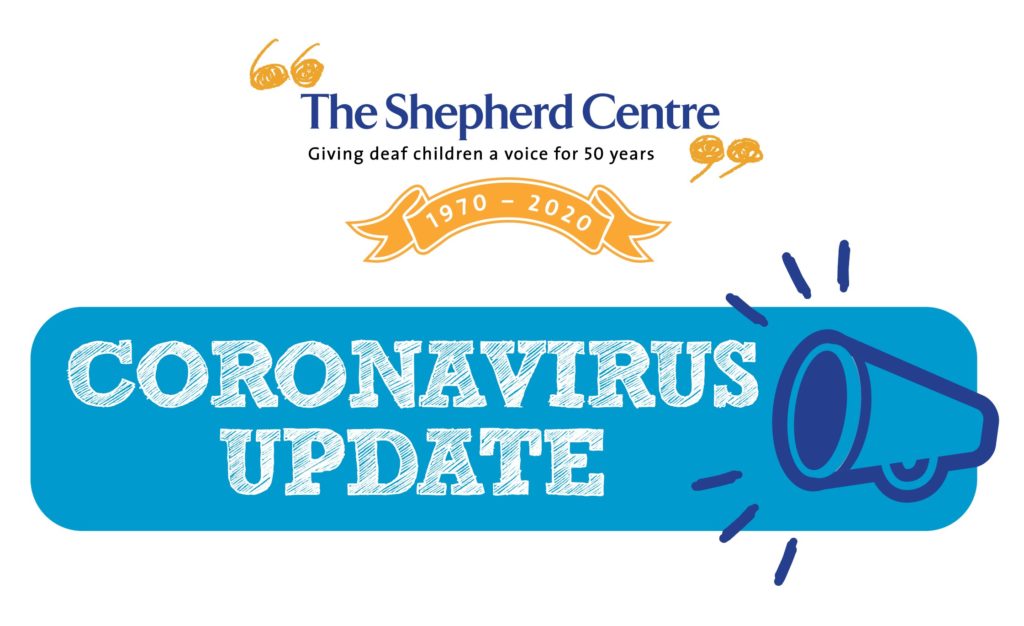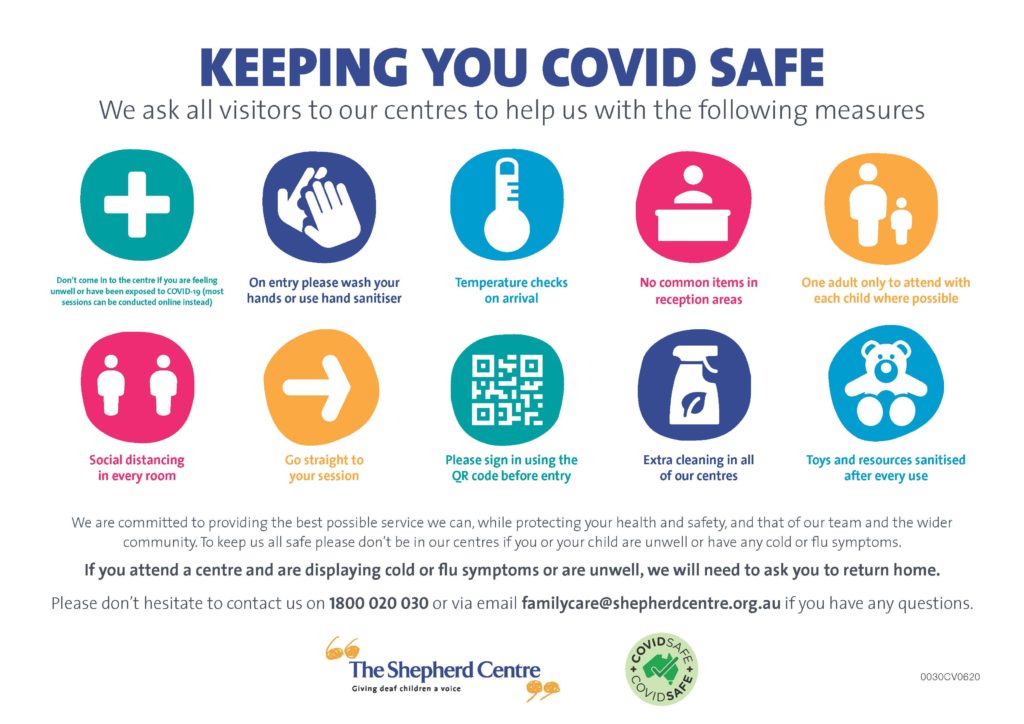 Contents:
Get tested and isolate immediately if you have been to these locations
Coming in centre or using Online Telehealth
Advice for carers of a child with COVID-19
Contact-less sign in at all centres
Information about the Casula cluster
Information about visiting Victoria
Topline medical advice for all
Latest update:
Wearing a mask in centre
Tuesday 12th January, 2021: As you would have already seen, mask wearing has become mandatory in many venues for the Greater Sydney, Central Coast and Wollongong areas.

The Shepherd Centre is not classified as one of the venues for mandatory mask-wearing but we will continue wearing masks when social distancing is not possible (so we do require masks for sessions).

While children under 12 are not required to wear masks, it is encouraged where practicable.

Always remember that sessions are available online via our Online Telehealth System if you are not feeling comfortable with coming in to a centre or if you or your child is feeling unwell or has been in contact with someone who may have COVID-19.

Please feel free to speak with your case manager to arrange this. We thank you for your continued support in keeping us all COVID safe.

For more information, please visit the NSW Government website here.
Should I be coming in or using Online Telehealth?
Monday 10th August, 2020: All sessions continue to be conducted online unless pre-arranged with your child's team.
Our flexible access options
During these challenging times, we would like to remind families that we are able to offer flexible access options for our services. Sometimes we may need to see you in-person and sometimes there may be a recommendation or even a requirement for online services. However, we'd like to reassure you that our unwavering support for your child and family is our priority. Please speak with your friendly team to work out the best way for your family and our team to be able to deliver our essential services to your family.
Most of our sessions are currently being offered online. Please note that your SMS appointment reminder will state that this is an online appointment unless it has been pre-arranged for an in-person visit with your team. Remember if you are seeing us in-person, please remember to sign in using the QR code at our doors prior to entry, and wear your mask. If you happen to answer yes to any of our COVID-Safe questions, please don't continue into our centres and contact our team to arrange an online session.
We are strictly following our COVID-safe plans to ensure the safety and wellbeing of both you and our teams. You'll soon see additional hand sanitiser stations on entry, and floor markers to ensure we are all maintaining our social distancing. We are also minimising movement of our team wherever we can between centres, and continue to thoroughly clean and sanitise all resources and surfaces between each family visit. All our team are following NSW Health guidelines closely and on a daily basis with regards to advice with current hotspots and we thank you for doing the same.
A few reminders to some specific questions we've received from families:
Q: Can I come in for an in-person visit if I have a mild cold or respiratory symptoms?
A: To keep us all safe, no. You can return to our centres once your symptoms have gone and after a negative COVID test result.
Q: Can I come in for an in-person visit if I or one of my family members are awaiting a COVID test result?
A: No, if you have an in-person session scheduled and you are awaiting test results we can do this online or it can be rescheduled.
Q: Can I come in for an in-person visit if I live in an area where there has been an identified venue?
A: We are following the NSW Health Guidelines. If you have been at an identified venue that requires self-isolation or monitoring for symptoms, please do not come into our sessions and we can do your session online or reschedule for an in-person visit after 14 days. If you live in an area where there has been an identified venue, but not at that venue or interacted with anyone who has, you can visit our centres, ensuring you are following NSW Health Guidelines and taking the appropriate precautions
We offer the same advice for our families and staff in The ACT. Please get tested if you have visited a COVID hotspot and/or are showing signs of illness. ACT specific advice can be found here: https://www.covid19.act.gov.au/home
Advice for parents & carers of a child with COVID-19
NSW Health: FAQs for parents and carers of a child who requires isolation due to COVID-19
New contactless sign-in process at all centres
Monday 20th July 2020: We have installed a new QR code check-in system at our centres to help keep us all safe and ensure that we have accurate records of people who have come into centres in the case that we may experience contamination.
These are easy to use – lookout for the QR code poster at the entrance, hold your phone up to the code and then follow the prompts to complete the form. It is essential that ALL families complete the form PRIOR to entering the centre. If you answer yes to any of our COVIDsafe questions. Please do not enter our centres.
In the case that you may experience difficulties with scanning the QR code, there will also be a link on the poster that you can simply enter into your web browser on your phone that will take you to the registration form. We thank you for participating with this important process to help stop the spread of COVID-19.
Information on the cluster of cases in Casula, NSW
Monday 13th July 2020: As you may be aware, there has been a recent cluster of COVID-19 cases reported in the Casula area which have been linked to the Crossroads Hotel between 3rd and 10th July (for further details, please click here).

This is a reminder that any families (or Shepherd Centre staff) who visited the Crossroads Hotel during these dates have been asked to self-isolate for 14 days and present for testing regardless of whether they are showing symptoms of COVID-19 or not. This means that we also ask you to NOT attend our centres for a period of 14 days if you have visited the hotel OR have been in close contact (for more than 15 minutes) with someone who has attended the Crossroads Hotel during the above dates.

Please remember that most clinical sessions can be conducted via our Online Telehealth System – these can be arranged by speaking with your case manager or contacting us at [email protected]
Information on the increase in cases in Victoria
IMPORTANT: Due to the increase in the number of COVID-19 cases in Victoria and the Victorian government has identified a number of hot spots in Melbourne.
As a result, we ask that any families who may have visited ANY part of Melbourne in the past two weeks to NOT attend our centres or preschools in person for a period of 14 days. This also extends to any families who may have received visitors from Melbourne or been in direct contact with someone who has visited Melbourne.
Additionally, if you plan to visit Melbourne or be in contact with anyone who has, whilst this situation is unfolding, we also please ask you to refrain from attending our centres or preschools in person for 14 days after you have returned (or last in contact with someone from Melbourne) so we help prevent the spread of disease.
Unsure how to use Lifesize?
Contact us if you are unsure of how to access Lifesize or would like to discuss appointment options.
Click here for common questions and advice about using Lifesize.
Keeping you safe in our centres
As we are starting to gradually recommence some in-person sessions, we have introduced a few additional health and safety measures in our centres. You would have received an email regarding this recently however we just wanted to remind you that next time you visit, you'll see a few things that are different. These include:
• Washing hands and/or using sanitiser on arrival
• Temperature checks on arrival
• Social distancing in every room
• One adult only to attend with each child
• Restricted use of waiting rooms – families will go straight to their appointment
• No common items in reception areas
• Adjusted sign-in procedures
• Toys and resources will be cleaned and sanitised after every use in adherence to industry guidelines
• Extra cleaning in all of our centres
Also, where possible, we ask that you come straight to the therapy room rather than using our waiting room.
We've implemented these measures to keep both our families and staff safe. To do this takes us a little more time so we will be finishing sessions promptly so we can ensure a thorough clean for the next family.
Please note that this virus is still amongst us and we all need to continue to take precautions. If you or your child is unwell or displaying symptoms of coronavirus, please do not come into the centre.
Contact us on 1800 020 030 or [email protected] if you have any questions. We thank you for your support and understanding.
Topline medical advice for all:
If you develop a fever, cough, sore throat or shortness of breath within 14 days of overseas travel or are in contact with someone else who has Coronavirus, seek medical attention: call your GP, call Healthdirect on 1800 022 222, or in an emergency, your local hospital emergency department, if you require translating or interpreting services, call 131 450.
Protect yourself and others: clean your hands regularly, cough or sneeze into your elbow or a tissue. Face masks aren't recommended for people without symptoms. Importantly – stay at home if you're feeling unwell.
Resources
Helpful resources for understanding the coronavirus pandemic and supporting your family can be found here
Resources chosen for kids by our Child & Family Counselling team can be found here
Video Resources
Our core values:
All Shepherd Centre staff will be looked after and we will continue to ensure staff are paid.
We will look after children and their extended families.
We will work together to prevent the spread of disease.
We take a community-first approach.
We all do the best we can in the circumstances.