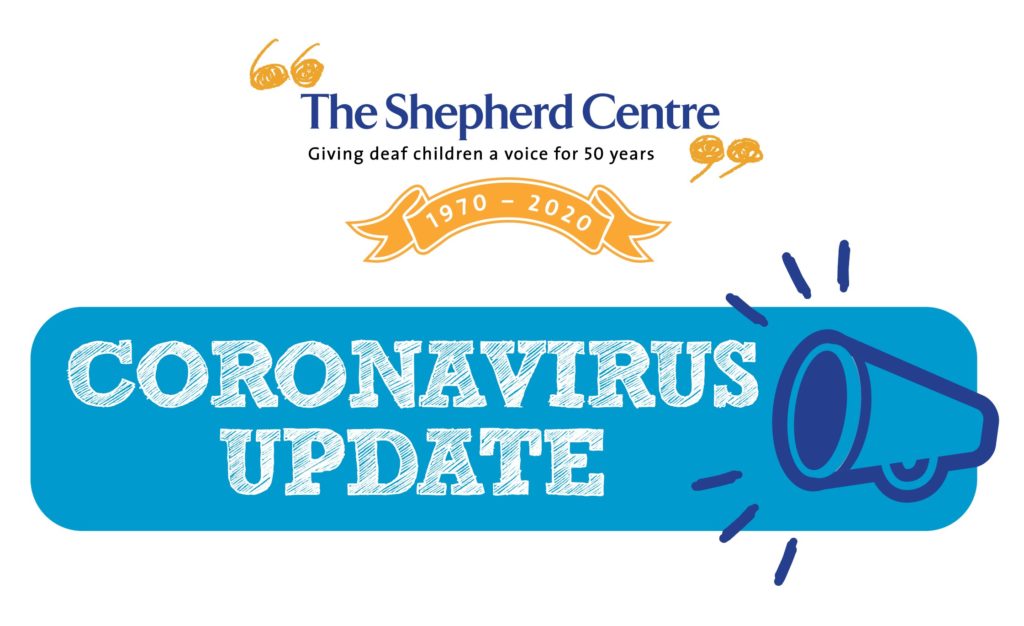 Latest update:

All centres remain closed and appointments are being conducted online via Lifesize unless pre-arranged with your therapist and team.
Please consider your appointment as an online appointment unless you've arranged an alternative with your team.
As we are considered an essential service, we are able to facilitate face-to-face appointments but these will need to be scheduled in advance.
Contact us if you are unsure of how to access Lifesize or would like to discuss appointment options. 
Click here for common questions and advice about using Lifesize.
Our core values:
All Shepherd Centre staff will be looked after and we will continue to ensure staff are paid.
We will look after children and their extended families.
We will work together to prevent the spread of disease.
We take a community-first approach.
We all do the best we can in the circumstances.
Topline medical advice for all:
If you develop a fever, cough, sore throat or shortness of breath within 14 days of overseas travel or are in contact with someone else who has Coronavirus, seek medical attention: call your GP, Healthdirect on 1800 022 222, or in an emergency, your local hospital emergency department, if you require translating or interpreting services, call 131 450.
Protect yourself and others: clean your hands regularly, cough or sneeze into your elbow or a tissue. Face masks aren't recommended for people without symptoms. Importantly – stay at home if you're feeling unwell. 
Previous Updates & Advice:
Update on our centres_MONDAY 23RD MARCH_email from Jim
Accessing our services online Friday 20th March 2020
Ready to support your family online_FRIDAY 20TH MARCH_email from Jim
Update for all families currently attending group sessions Monday 16th March 2020
All group sessions cancelled_MONDAY 16TH MARCH_please read
Update for our preschool families Wednesday 19th March
Preschools are open_THURSDAY 19TH MARCH
Update for all families Tuesday 10th March, 2020
Resources for parents
Helpful resources for understanding the coronavirus pandemic and supporting your family can be found here: https://shepherdcentre.org.au/resources-for-parents/
Resources for kids
Resources chosen for kids by our Child & Family Counselling team can be found here: https://shepherdcentre.org.au/resources-for-kids/ 
Video Resources