We had some fantastic entries into The Shepherd Centre's LEGO Challenge, "What hearing means to me".
WATCH Hamish Blake announce the winner and runners up, then scroll down to see all of the amazing LEGO creations.
FINALISTS
James
12 years old
James' LEGO Challenge: LEGO AFL field
I am a HUGE AFL Geelong Cats fan so I built a LEGO AFL field. My LEGO build includes the field with goal posts, a Premiership Cup in the middle and a grandstand full of supporters in Blue and White, Geelong colours. It has a Pizza shop, Ice Cream shop, security guard, media taking photos, supporters eating and drinking food and a cleaner. It took me about one and a half weeks to build as there is lots of construction under the grandstand to keep it supported, which used heaps of LEGO bricks. I have worn bilateral cochlear implants since I was 7 months old and without them, I would not be able to hear anything. My Great Grandfather followed the Geelong Cats his entire life and that's how I started watching AFL when I was little. AFL is a big part of our family's life and without my ears I wouldn't be able to enjoy all the sounds, clapping, cheering and yelling both at the games or on TV. I have been to some live games in Melbourne and it was the best atmosphere and experience I have ever had. It would not have been half the experience if I wasn't able to hear anything. I love LEGO because it can be enjoyed by people of all ages and my brothers and sister build lots of things at home with LEGO. I like inventing different things and being able to pull it all apart to make something different.
Eden
6 years old
Eden's LEGO Challenge: In and Out of The Shepherd Centre
This LEGO creation took 3 hours and it shows hearing in and out of The Shepherd Centre. Inside The Shepherd Centre I built a reception area with a fish tank like Newtown, the waiting area, the group session and the outdoor area with balance beams and stepping bricks as well as a shade covering.
Outside of The Shepherd Centre I built all the noises.


Jacob
7 years old
Jacob's LEGO Challenge: When I Grow Up
My name is Jacob and I have 2 magic ears. I got my cochlear implants when I was 10 months old. I am 7 now years old and I am a LEGO Masters! I have over 10,000 pieces of LEGO and build creations every day. I even build LEGO before I go to school and before I go to bed. My Mum and Dad tell me that I am LEGO-obsessed! I love to make LEGO creations because I can be creative with my mind and build my own world.
My LEGO creation is called 'When I Grow Up'. Because of my magic ears I can be anything that I want to be. I want to be an astronaut so I can fly a rocket ship into space and land on Mars. I want to be a police officer so I can keep the streets safe and make sure that people are doing the right thing. I want to be a pilot and fly a huge plane to New York. I want to be a builder so I can build a skyscraper that reaches the clouds.
I have written a poem about my magic ears:
I love my magic ears that I have proudly worn for 6 years.
Before my magic ears came along, there were many tears.
But now there are no more tears and only the sound of cheers!
I am proud every day to wear my magic ears.
I hope you love my creation!
Josie
5 years old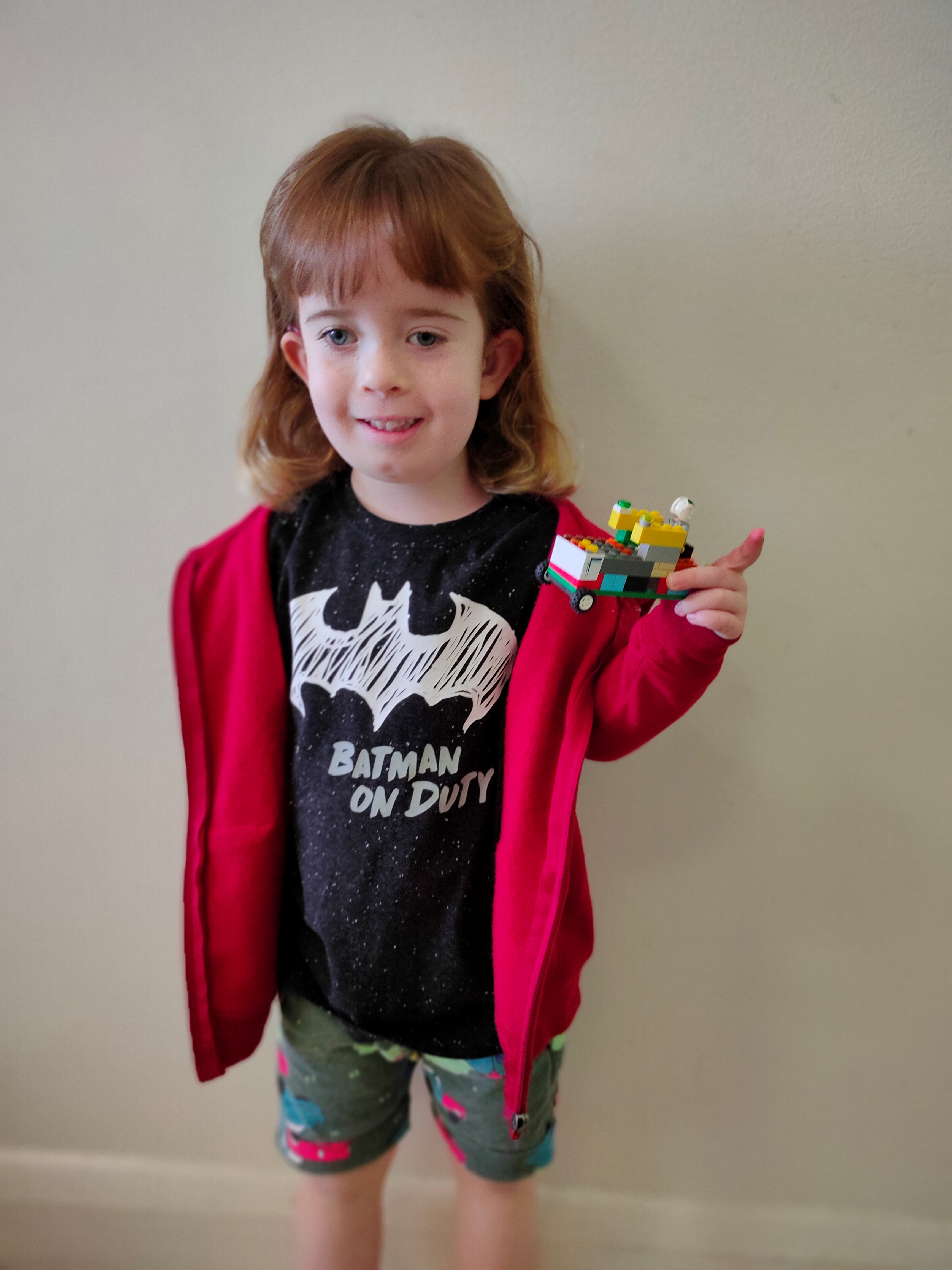 Josie's LEGO Challenge: Police car
How long did it take to build: According to Josie – about 5 minutes. I had to build the seats which took a while.
What does hearing mean to you?
Police sirens. I like the police as well because they do a good job. I also like hearing because it means I can talk to mum and dad when I'm playing.
Nate
10 years old
Nate's LEGO Challenge: Gaming Headset
My Lego build is called "Gaming Headset".
I have built my Gaming Headset because I spend as much time as I am allowed playing games, and I really enjoy the music in the games.
This took me approximately 40 minutes to build, most of the time hunting for the right pieces (because I don't have a LEGO brick pit!)
To me, hearing means music, sound effects, and talking and listening.
I love LEGO because it is very flexible and it is easy to be creative with it. My favourite LEGO sets are the ones that include unique pieces.
Aidan
8 years old

Aidan's LEGO Challenge: Yoda
I love building with LEGO. I got the Lego Yoda for my birthday. This is my LEGO challenge.
Yoda is a character from Star Wars, which is my favourite movie. Yoda has big ears and has heard and listened for a long time. He is 900 years old. Yoda has great wisdom.
To build Yoda, I started with the feet then moved up the body. Each section has instructions. The pieces are very small. Each tiny piece connects to another. I built up the body, then the head and finally the light saber. It took a lot of concentration. I loved seeing it come together.
As soon as I got up in the morning I started building. I built it until I had to do something else. Mum calculated it took me at least seven hours over a few days. It took a lot of patience.
What does hearing means to you?
Everything in the world! I can hear my friends when we play. I can hear songs and movies. Without my Cochlears I wouldn't be able to hear the music. 'Star Wars' is my favourite movie because it has lots of spaceships and explosions.
What do you love about LEGO?
From little pieces you can build big strong things. You can make anything you want with it! You can make up your own gadgets and things without following instructions.
Emerson
4 years old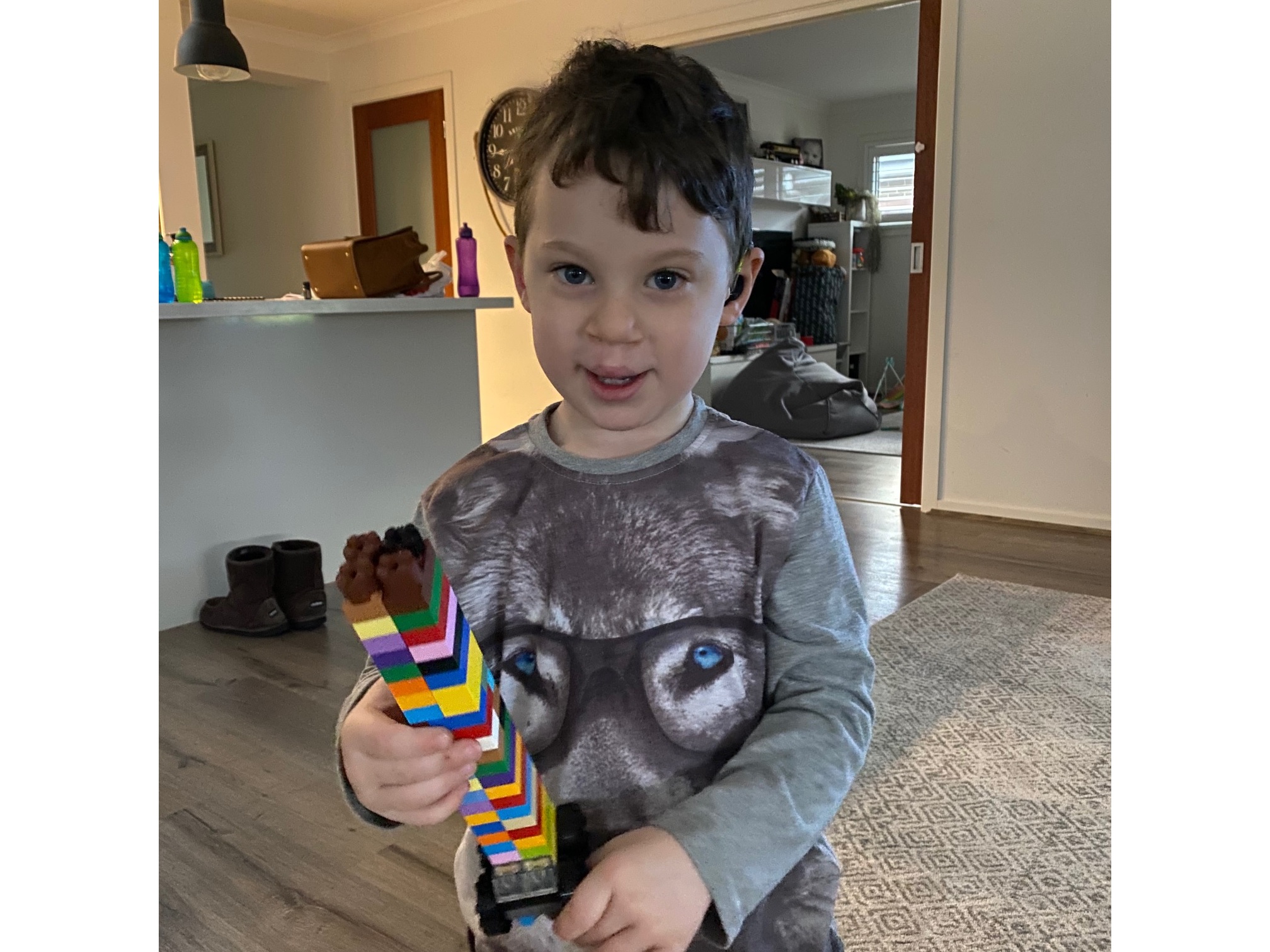 Emerson's LEGO Challenge: Big-Monster-Truck-Cleaning Car
Emerson loves building with LEGO, he started his "Big-Monster-Truck-Cleaning Car" one afternoon after preschool. He sat on the floor and said he was going to use the monster truck wheels to make it big and chose lots of different coloured LEGO blocks to put together to make it "really, really tall"
Emerson continued to build before bedtime and used every last block to make a tall tower above his wheel base. Emerson loves LEGO because it helps him "calm down and sit and play with mummy and daddy"
In the morning he added round blocks on top and under the base and said this helps his truck- car clean. He showed us by driving his creation on the floor making vacuum noises. I asked him why he wanted it to clean the floor and he said "it will help mummy clean so we can play more."
He was very proud of what he made, showing everyone that would come over and said it was "special, so we had to be careful!"
When I asked Emerson what hearing means to him he said he loves to hear "cars go really, really fast." and "planes all the way in the sky" "sing songs" (singing) and "mummy read books" Emerson said he loves his hearing aids because they are black and pink and help him every day.
Connor
9 years old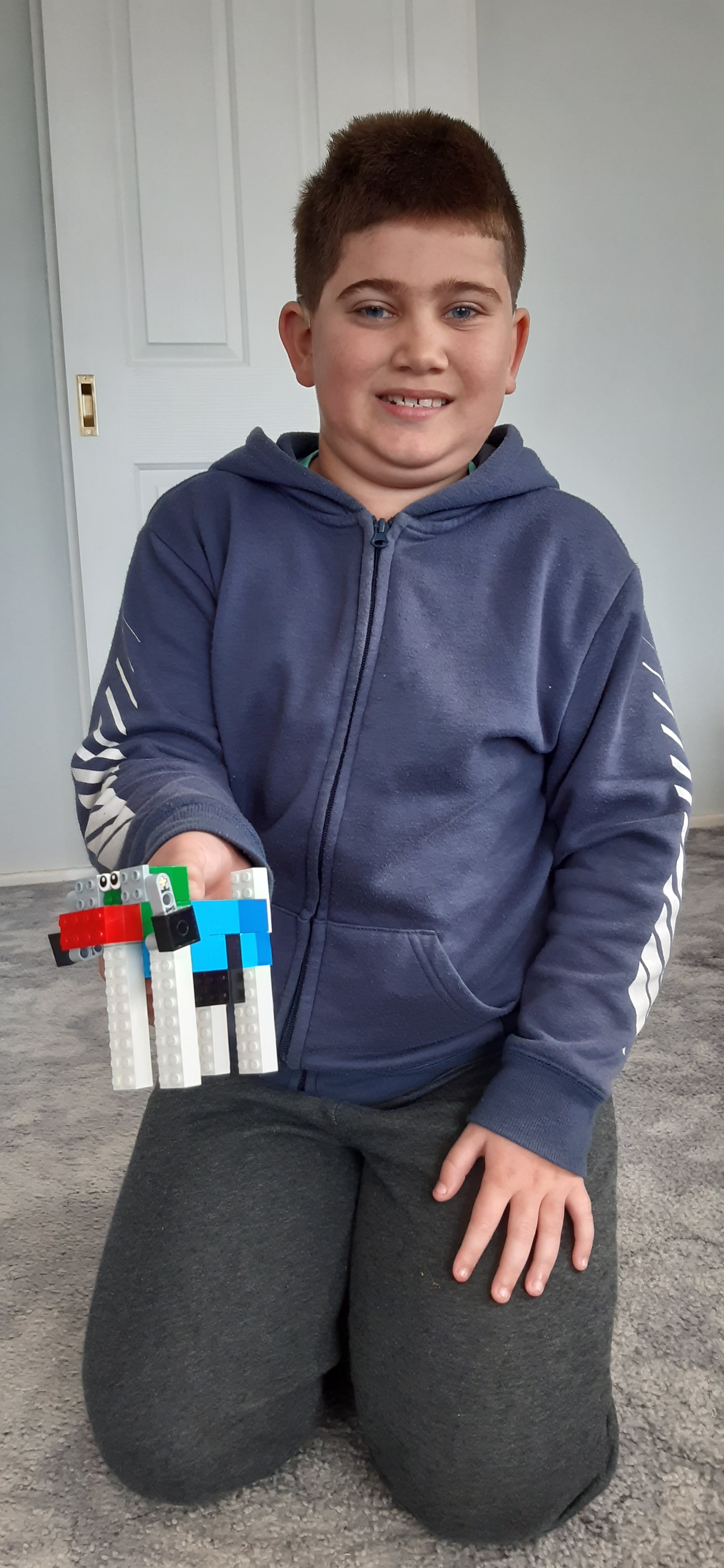 Connor's LEGO Challenge: Chase the Dog
Chase is a dog that it can bark and make a lot of noise. I love building Lego and I like making creations. I love watching LEGO Masters so I can learn a lot about it. LEGO is so much fun to make and enjoy.
Addison
9 years old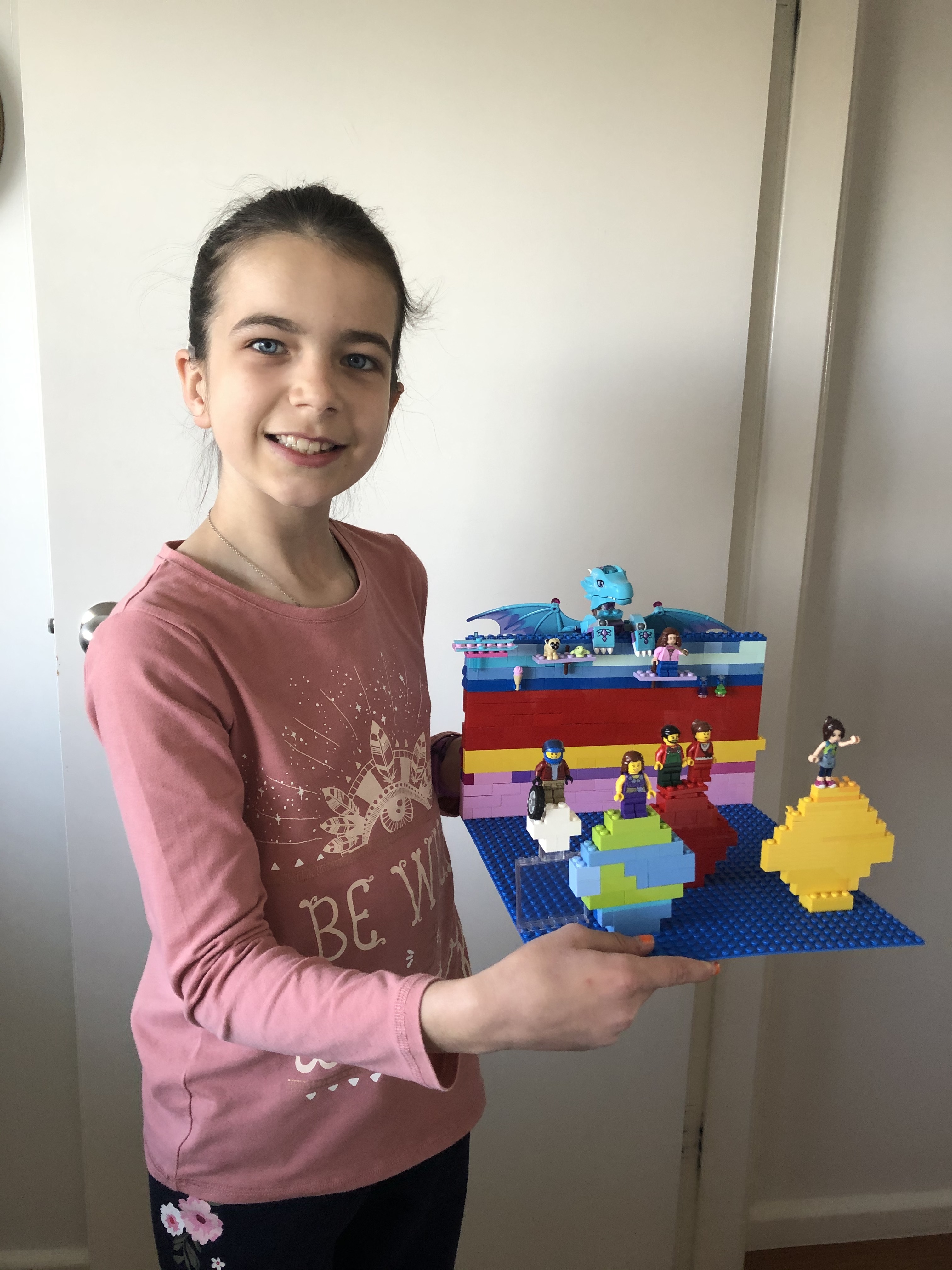 Addison's LEGO Challenge: My Universe
My Lego build is called 'My Universe'. It is made up of the planets Earth, Mars, the Sun, and the Moon. My mum and Dad are on Mars, my sister is on the Sun, my brother is on the Moon and I am on the Earth. In the background, you can see the sunset and all my favourite things in the sky. The skis stand for skiing, the potion bottles stand for science, the puppy and turtle stand for animals, the dragon stands for mythical creatures and Hermonie stands for the Harry Potter series. I enjoyed building this and it took about 3 days. What I love about LEGO is how you can create anything and there is no limit. Hearing means a lot to me. If I couldn't hear I wouldn't be able to learn and make friends.
Maxwell
9 years old
Maxwell's LEGO Challenge: Pikachu, Sonic, Batcar, Spinner and Laser go for a walk
I am Maxwell North Birks. I am a fan of LEGO Masters.
Hearing stories is really important to me. I can watch shows and hear them. I like telling stories too.
Pikachu, Sonic, Batcar, Spinner and Laser are trying to get through the wall so they can get to their birthday party. It is all of my characters birthday in this story, but Eggman laid a bad trap for them. They can't meet Nella the Princess Knight and all the people of Castlehaven. There are 100 people at their birthday party and they are waiting. Nella is waiting for them and the birthday party can't start without them. You can't start without the Birthday Boys!
Mum helped me make Pikachu and Sonic. I made the wall all by myself and used bits from our Lego pit for the vehicles and spinner.
It took me 'not so long' because I was super-fast like Sonic.
I love Lego because I can make and create stuff. That's all.


Eddie
10 years old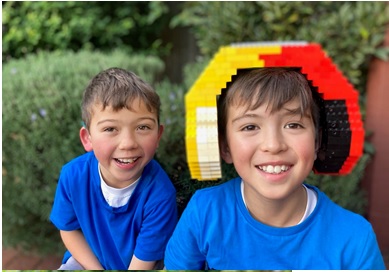 Eddie's LEGO Challenge: My Siren Ears
The LEGO creation we made are headphones with colours of a fire truck siren.
We made this because it relates to how it sounds wearing hearing aids.
It is sort of like wearing headphones your whole life, and listening to people speak to you from a phone. It also sounds a bit robotic when you speak to someone with hearing aids.
The LEGO build took around 2 hours, 1 hour building and looking for the red and black side, and 1 hour to build the yellow and white side.
My brother Daniel who is younger than me was born with half a heart, and this got him his hearing disadvantage. Both the heart and ears develop the same time in the womb and the bones in his ears didn't develop well.
He can hear a bit without his hearing aids, but you need to shout at him so he does.
My family loves building creations from LEGO, from scratch or using instructions.
We all love watching LEGO Masters, and have not missed a single episode.