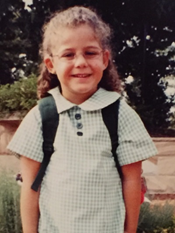 Olivia was born with a condition known as Usher's Syndrome. This means she was born profoundly deaf but also has an eyesight disorder called retinitis pigmentosa, where her eyesight will continue to deteriorate over time. And in Olivia's case she also had poor muscle control in her tongue and mouth, making speech development even more difficult for her; adding to the challenges she already faced. 
At the time Olivia was the youngest recipient of cochlear implants in the world, receiving her first cochlear at just 10 months of age. Anne Fulcher, our longest serving therapist supported Olivia and remembers her well.
Olivia has continued to excel both socially and academically. Olivia completed school and graduated with her Higher School Certificate and an outstanding result. She was accepted into Macquarie University to undertake a double degree Bachelor of Arts (Law).
But Olivia knows that this newfound freedom at University and her ability to be in the degree that she's in is largely due to our supporters.
"The Shepherd Centre has played a massive part in shaping the person I am today. I received the necessary skills and opportunities to lead a normal life with full hearing. I consider myself extremely lucky to have been able to use the support and services that they and the donors provided for me". 
Olivia, now 20 years old, has already achieved so much in her life. When you take into consideration her hearing loss and gradual loss of vision; her achievements of living independently, moving out, socializing with friends, attending university, exercising and generally doing all of the typical tasks associated with being 20, are huge accomplishments.
Olivia is a success story because of the generosity of our supporters. There are so many children just like Olivia who have been given the opportunity reach their amazing potential.
Today Olivia describes herself as "confident, organized, friendly, works well in groups and constantly seeking to explore new opportunities". It shows that despite her challenges in life, nothing has held her back.