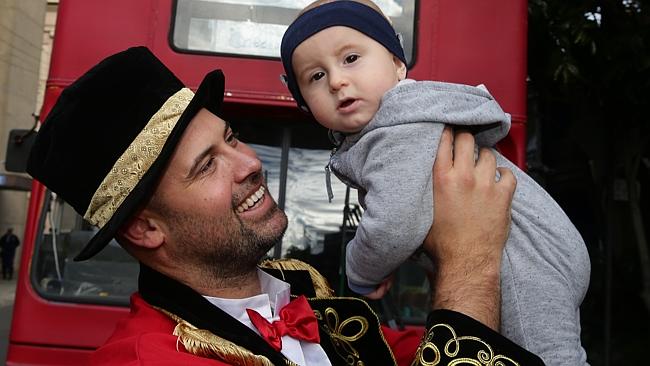 Last year one of our parents, Angus, set off on a life-changing trip across Australia to raise funds for The Shepherd Centre where his second son, Angus Jnr, attends.
Angus Jnr was born with profound hearing loss in both ears. He received two cochlear implants at just five months old and, for the first time in his life, heard his parents' voices. "I was so nervous," mum Caroline said. "He was sitting on his father's lap. His dad said a few words and Angus just stopped and looked straight up at his dad. It was the perfect reaction."
Angus is currently receiving therapy in speech, language and listening at The Shepherd Centre in Newtown.
The 'Cheers Big Ears Charity Tour' kicked off in Perth, and Angus – along with eight of his mates – travelled the 4000km to Sydney in a wonderful red double decker bus.  Angus said the nine day journey wasn't a quiet one; he and his friend had resolved "to make a lot of noise while raising much needed funds for The Shepherd Centre who provide children with hearing loss the tools they need to learn, listen and speak."
To further spread the awareness Angus and his mates all dressed up as superheros, astronauts, chickens and lion tamers!  They also brought a coffee stand from which they sold coffee by gold coin donation wherever they could to help raise funds.
When the bus rolled into Sydney, Angus and his mates were delighted to give all they had raised to The Shepherd Centre, "for kids who desperately need this precious gift to hear," Angus said.