Meet Little Angus
Gorgeous little Angus was born a week before Christmas in 2014. He was the perfect little Christmas present to dad Angus, mum Caroline and big brother Avery. But the family's joy and excitement soon turned to shock when Angus went for his newborn hearing test, he didn't pass. He then had more tests over the coming months until his parents were told the devastating news…Angus was deaf.
"Straight away I broke down in tears. It was such a shock. Every time I looked into his precious little face, he'd just look up at me and smile. He had no idea what was going on. It was heartbreaking to think of all the challenges he may face because of this. What would the future hold for my little boy?" – Caroline (Angus' mum)
The next few months was a stressful and heartbreaking time for the family as they consulted with doctors and specialists to work out how to ensure their 'special little guy' could learn to hear and speak. The only option was for Angus to undergo major surgery to have cochlear implants. Thankfully, the operation was a success, but real the moment of truth arrived when Angus' implants were switched on for the very first time…
"I was so nervous. Angus was sitting on his father's lap. His dad said a few words and Angus just stopped and looked straight up at his dad. It was the perfect reaction," recalled Caroline.
Angus can now hear, but his journey to learn to listen and speak has only just begun…
Become a child sponsor to give Angus the best possible start in life.
Angus now requires one-on-one therapy and specialist services to help him develop the vital listening and speaking skills he needs to reach his full potential.
But it costs $18,000 per year to provide these critical services, without which Angus may never be able to enter mainstream schooling to create the future he deserves.
Please sponsor Angus for just $25 a month to give him access to vital services and support he urgently needs so he doesn't get left behind.
How your sponsorship helps
When you sponsor Angus, you will give him access to life-changing support and services to help him reach his full potential. Your support will give Angus and his family access to:
One-to-one therapy with trained specialists
Audiological support and services
Child and family counselling
How it works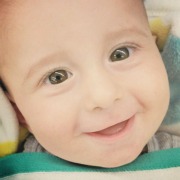 When you sponsor Angus, you'll become part of his world as he embarks in his special journey to learn to listen and speak. As his sponsor, you'll receive…
Photos and background information about Angus and his amazing family
Quarterly updates to share Angus' journey as he progresses in the world of sound
Special updates to share his successes and milestones (as they happen)
 

Meet Julie-Anne, a child sponsor

"Sponsoring Rafael has been the most eye-opening and rewarding experience. I have loved every minute of it and look forward to each update about how he has progressed and improved with his hearing and speech, how he loves to bop and dance to music, and how he has blossomed into a loving cheeky little boy. I'm so thankful to be part of Rafael's wonderful journey and I can't wait to see what the future holds for him." – Julie-Anne Henderson (Rafael's sponsor)
About The Shepherd Centre
Since 1970, The Shepherd Centre has been providing children with the tools they need to learn to listen and speak. We have specially designed programs to support and help children with hearing loss. Our Early Intervention program is world-renowned for its results – more than 90 per cent of children with hearing loss who graduate from our program attend school with listening and language skills on par with those of their hearing classmates. We receive only 26 per cent of our funding from the government, so we need your support to help these amazing children to learn to listen and speak to realise their dreams. Our programs work and we are committed to helping every child reach their full potential and achieve a listening and spoken language future.