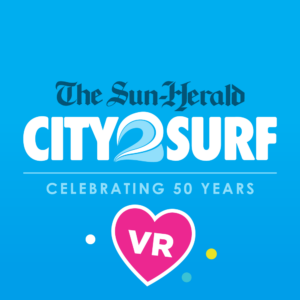 City2Surf is Australia's biggest fun run – and this year, it's going virtual!
To donate to #TeamShepherdCentre click here!
Due to social distancing requirements, City2Surf will look a bit different this year. Runners will download an official tracking app, map out a 14km route in their own suburb, and complete the race between Friday 16th and Sunday 18th October.
For more information on these changes, click here.
This year we want 50 runners for 50 years of The Shepherd Centre and City2Surf.
Sign up now for the biggest #TeamShepherdCentre yet!
City2Surf is a fully inclusive event for everyone of all ages and abilities. We would love for you to join our team in 2020.
To take part on Sunday 18th October, simply register your entry via the City2Surf website and follow the prompts to set up your fundraising page – choosing The Shepherd Centre as your elected charity.
When you raise $50 we'll send you one of our brand new Shepherd Centre running shirts FREE! (follow the prompts from your emails to receive this).
Want to run for FREE? Raise $250 or more and we'll refund you the cost of your registration (please contact our Fundraising Team at the email address below if you wish to do this).
Should you require any further information or need any assistance with your registration please contact our Fundraising Team at [email protected].