The Shepherd Centre Giving Day 
We need your help! Our goal is to raise $180,000 in 24 hours to give 75 children the tools and confidence they need to thrive at school and in their community.
HEAR:together – Give babies born deaf their first words
It is a devastating reality that many children with hearing loss can suffer from developmental delays to their social skills. Without the ability to hear subtle tone changes and inflections in a conversation, they can find it difficult to pick up on social cues. This can leave them feeling lonely and isolated from their peers and classmates.
Not only is this heart-breaking for a child's family, but it can also have a serious impact on their self-esteem, mental health and even their education.
"Parents fear their children won't be able to make friends and go out in social settings. They worry they won't understand jokes, that they will be laughed at, that they may be bullied."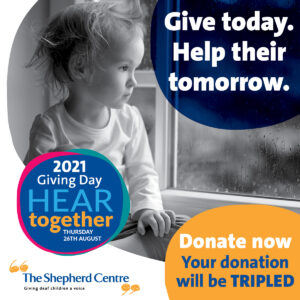 That's why The Shepherd Centre's world-leading program Confident Kids has been life-changing for many families. Through a mix of games, roleplaying, discussions and other fun activities, children are able to develop the social skills they need to make friends and successfully transition to school.
By donating today, you'll have a unique chance to TRIPLE your impact.
Please give generously to equip children with hearing loss with the social skills they need to make friends, advocate for themselves, and live a full life.