Why Philanthropy matters
'At The Shepherd Centre we know that the work we do, and the amazing achievements of the children in our care, are only made possible through the support of our generous and inspiring partners. The amazing support we receive from our partner organizations and from philanthropic individuals makes a reality of outcomes which would otherwise be simply unachievable.
If you would like to be involved in helping to bring the gifts of speech and sound to children with hearing loss and helping them to live their fullest lives please reach out to our philanthropy team here.
Thanks to all of our incredible supporters and partners, deaf children can live in the world of sound.
And for that we are all most sincerely grateful'.
Doctor Jim Hungerford CEO
To find out more
If you would like to learn more about any aspect of The Shepherd Centre's programs and how you as an individual or as an organization can become involved in improving the lives of children who are deaf our team will be happy to discuss your philanthropic goals and answer any questions you may have.
Contact: Angela Moffatt –Key Relationships Manager P: 02 9370 4438 E: [email protected]
Our Premier Partners
Our Premier partners
The Shepherd Foundation
Sargents Pies Charitable Foundation
Cochlear LTD
The Cochlear Foundation
Commonwealth Bank Foundation
Vincent Fairfax Family Foundation
Packer Family Foundation
The Goodridge Foundation
The Chief Minister's Charitable Fund in partnership with Hands Across Canberra
Tasmanian Community Fund
James N. Kirby Foundation
The Golden Stave
Crown Resorts Foundation
QBE Foundation
DOOLEYS
Perpetual Foundation – The JB Bedwell Endowment
Perpetual Foundation – J & G Bedwell Endowment
The Jessica & Wallace Hore Charitable Foundation
Our Partners in 2021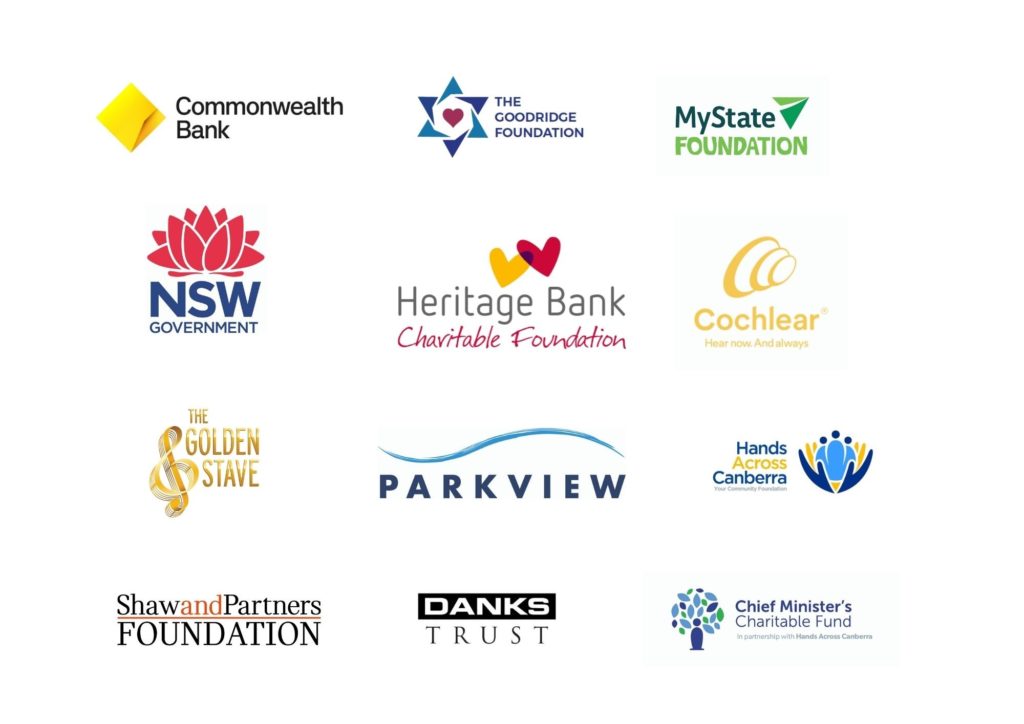 Our Partners in 2021
Tasmanian Community Fund
John James Foundation
Mirvac (South Eveleigh)
James N. Kirby Foundation
Bluescope Steel
DOOLEYS
MyState Foundation
NSW Government – Department of Communities and Justice
Foundation of Graduates in Early Childhood Studies
Lord Mayor's Charitable Foundation (Eldon & Anne Foote Trust)
QBE Foundation
Jemena
IMB Bank Community Foundation
Honda Foundation
Heritage Bank
Chief Minister's Charitable Fund (in partnership with Hands across Canberra)
CommBank Staff Foundation
Orica Australia – Kooragang Island
NSW Government – Department of Education
Cochlear Foundation
The Calvary Community Council
Cochlear Limited
The Jessica & Wallace Hore Charitable Foundation
Perpetual Limited
Perpetual Foundation – The JB Bedwell Endowment
Perpetual Foundation – J & G Bedwell Endowment
Australian Government – Department of Social Services
The Carlo and Roslyn Salteri Foundation